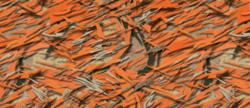 "This has taken colorization to a whole new level"
Upland, California (PRWEB) December 30, 2011
Outdoor Retailer buyers will see the use of three types of active wear fleece materials used for a variety of apparel that are colorized with patterns on one side and solids on the other or two dramatically opposed colors like lime green and chocolate brown on the same fabric. The possibilities for designers are limitless. Also being introduced is a new camouflage including "BUBBAFLAGE" which is a 3D Camo. Many of the patterns and technology are being used by Special Forces.
Lafgo advanced fabrics will be featured at the Katmandu booth. Katmandu has been working with LAFGO from Columbia on a variety of new high tech fabrics that can be used in both the active wear industry (snowboarders, Skiers, Surf, SUP, tennis, Mountain climbers, backpackers and skate boarders, from the occasional participant to the pro) Katmandu has taken the fabrics and used Kinetic Colorization™ which does not change the hand of the fabric and colorized these on both sides with different colors and colors on one side and graphics on the other side.
"This has taken colorization to a whole new level "stated Marc Spitaleri President of Victory Koredry and allowed Victory Koredry to do many things we were not able to do in the past; and is being done in California without water using dispersed dyes is a side benefit but important".
Short runs to market can happen in two weeks for market testing and 30 days for the medium and larger production runs. Katmandu is producing 3 to 4 meters a minute and colorizes both polys and nylons.
Katmandu and MGM apparel have come to an agreement for the production of apparel using Kinetic Colorization™ and many items made by MGM in their Columbian facility will be showcased at the OR show. Katmandu has put together a unique group that has advanced fabrics that are manufactured in Columbia, advanced colorization that is done in the United States and a world class cut and sew facility for medium and long runs also based in Columbia and short runs in California.
Katmandu has just opened a new facility that includes a show room and an advanced lazar cutting from its automated lazar cutting machine in Rancho Cucamonga California. Sales for these 3 companies will be handled out of this facility.
Katmandu will be stocking many of the more popular and cutting edge fabrics manufactured by LAFCO including fabrics that will be used for local cut and sew in the United States that want color choice with world class fabrics.
Kinetic Colorization™ uses dispersed dye to colorize fabrics including many of the newer high tech fabrics. What has surprised everyone is the ability to colorize nylons in both short runs and long runs, either single or double sided. Through the process of Kinetic Colorization™ the dye is actually put inside the fiber so the abrading associated with silk screening and wet printing does not take place. Even with bleach, the color is locked into the fiber. In a one hour straight bleach soak test with Cordura® Nylon there was only minimal color loss.
Katmandu through the use of Kinetic Colorization is helping bringing jobs back to the Americas.
###