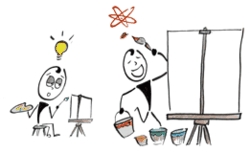 This is about a change in attitude that allows you to express your original lust for life and Joie de Vivre.
Boston, MA (PRWEB) December 30, 2011
Rob White and his team of innovative thinkers at Mind Adventure CS will be expanding their Atomic Action Workshop to accommodate eager entrepreneurs who plan to take their dreams to the street soon.
Due to the enthusiastic response to prior workshops, Mind Adventure will be adding an extra session on Sunday January 8th specifically designed for the curious minded who are putting together a business plan.
Rob will be sharing the keys step to unlocking an individuals full creative potential so he may take Atomic Action. "This is about a change in attitude that allows you to express your original lust for life and Joie de Vivre," says, White.
With an unprecedented ability to see people as they really are, Mind Adventure CS has the capacity to help others release their real nature so they can create a dynamic relationship with life.
Millions may feel resigned, stifled, stuck and confused about what's next for them in life. In his own experience, Rob has continuously broken himself free from the usual drift of life to go beyond his own self-imposed limits. From school teacher, to developer, to restaurateur to author, Rob now teaches folks the importance of creative expression and the joy of thinking the unthinkable.
Over the last 5 years, Author Rob White and Art Director Nicholas Kent have produced innovative books, seminars & blogs that have helped many folks drop misleading advice about their potential that has been heaped upon them.
Rob and Nick are now offering tips and insights to aspiring Entrepreneurs who are looking to break through to the next level.
"This goes beyond marketing or simply starting a business," says Kent, "This is about creating the next great epoch in your life. So many people come to us because they feel they have a deep-seeded creative spark but just can't seem to bring it to blossom. We'll teach you how water that seed and make it real."
Previous attendee, Gene McKim is a recently retired Electrical Engineer and self-professed "bummed out baby boomer." Says McKim, "I thought retirement was going to be my time to kick back, relax and do nothing! It didn't take long for me to tire of that. I knew I had a bunch of interests and hobbies but being a dilettante simply was not enough for me. I decided I wanted to focus on something that really feels worthwhile to me, and go all in. I wasn't sure what that was. Much to my surprise, Rob helped me realize I feel most alive gardening. Now I'm enthusiastically receptive to starting a small business that builds water gardens in the greater Boston area." Adding with a laugh, "I'm thinking Gene's Booming & Blooming Water Gardens… that's just a working title though."
Mind Adventure is offering an Atomic Action Workshop at the Holiday Inn in Brookline, MA on January 8th from 10:00 am to noon. Contact the Mind Adventure office via email here or at 617.477.4260 to reserve a seat. Space is limited; only one $50.00 VIP and seven General Guests $25.00 spaces left.
###