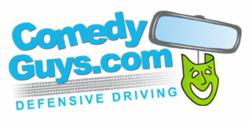 At Comedy Guys, we're determined to make taking defensive driving as fun and trouble-free as we can, whether it's taken online or in a classroom.
Dallas / Ft Worth, TX (PRWEB) December 29, 2011
Every January, Comedy Guys Defensive Driving sees an increase in business, both among people looking for live defensive driving classes and who are taking defensive driving online. As soon as the long holiday season has passed and students begin returning to school, people who've put off taking a defensive driving class to get a ticket dismissed begin looking such classes both online and in their local area.
"November and December are very busy and usually expensive times for a lot of people, so it's easy to understand why people with 90 days to take a defensive driving class would want to wait until after the holidays. At Comedy Guys, we get that, and we're determined to make taking defensive driving as fun and trouble-free as we can, whether it's taken online or in a classroom," said ComedyGuys.com's co-owner Mark Cooper.
This year, Comedy Guys is preparing for this increase in three ways: by adding class locations to its already busy defensive driving schedule, by adding scheduled defensive driving classes to established DFW locations, and by making improvements to its online defensive driving course that will make taking a driving safety course via the Internet easier and more fun.
NEW SCHEDULED CLASSES
At present Comedy Guys holds its defensive driving classes at more than 25 locations in 17 cities across Texas, but in January 2012 the company will add three new locations to its regular schedule.
The newest of these locations is SpeedZone Dallas at Interstate 35 and Walnut Hill in West Dallas. Classes are scheduled at this location every Saturday morning beginning January 7.
Also on Saturdays, Comedy Guys will be holding weekly defensive driving classes at new locations in Mesquite and Garland. The new location in Mesquite is at Buffalo Wild Wings, which is part of the restaurant row east of 635 and north of Town East Blvd. Garland Defensive Driving classes will be held each Saturday at the popular Siciliano's Taste of Italy on Buckingham, near North Garland High School.
In addition to these new locations, Comedy Guys is expanding its use of some of its existing locations. For example, defensive driving classes in Denton and Hurst will held every week instead of every other week, and the company is investigating additional defensive driving classes in both Houston and Richardson.
ONLINE IMPROVEMENTS
Not only is ComedyGuys.com adding live driving safety classes to its schedule, but the company is also making significant improvements to its already popular online defensive driving course, which is already designed to work on personal computers and various devices such as the iPhone, iPad and Android smart phones and tablets. Written by professional comedians, the online course covers the state-approved defensive driving curriculum with text, videos, and animation.
As already announced, Comedy Guys is adding even more videos to the online course, which means less text for students to read. Additionally, Comedy Guys is adding audio files to each page of text, so that students will have the option of having the text read aloud to them as they take the course.
"We're very excited about the new audio files we're adding to our online defensive driving course. Soon customers will be able to take the Comedy Guys online defensive driving course without having to read any text at all," added Cooper.
LAST-MINUTE DELIVERY
Because many of next month's defensive driving customers will have delayed taking the course until after holidays, the quick production and delivery of their driving safety certificates will be of great importance to them. For those students in this situation, Comedy Guys has vowed to continue the same great service its customers have come to expect.
"We've always been quick about printing and mailing defensive driving certificates. The state requires that they be mailed within 21 days of the course completion, but we work hard to get them in the mail, usually within 2 business days. And for those in a real bind, we offer overnight mail and even courier service for people in Dallas and Ft Worth," said Cooper.
Though courier service is currently available only in and around the DFW Metroplex, overnight mail is available to practically any town in Texas.
Moreover, the company expects to see increased use of its online service which allows those taking defensive driving in a classroom to input their certificate data directly into the database from which certificates are printed, which can cut one full day out of the time required to produce and mail certificates.
ABOUT COMEDY GUYS
Comedy Guys Defensive Driving is one of the largest driving safety schools in Texas. It currently offers live defensive driving classes taught by professional comedians in 17 Texas cities. Through its website ComedyGuys.com, it offers an entertaining online defensive driving course available anytime and programmed with work-when-you-want flexibility. Comedy Guys Defensive Driving courses are Texas state approved to meet court requirements for ticket dismissal and auto insurance discounts.
###