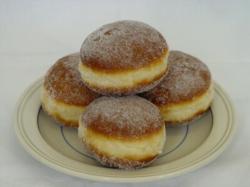 Linguists estimate about 6,000 languages are currently spoken around the world...earlier this year, a couple of high-profile figures attempted to raise the number to 6,002 by referring to languages that don't exist
New York, NY (PRWEB) December 31, 2011
Translation has been making headlines throughout 2011, frequently for the wrong reasons.
That's why Accredited Language Services, a US-based translation company, celebrates the Third Annual Jelly Donut Awards to recognize noteworthy lapses in translation, interpreting, and localization throughout the past year. From made-up languages to unintended voice-activated insults, this year's top 5 mistakes offer a look at what not to do when another language is involved.
Established in 2009, the Jelly Donut Awards pay homage to President John F. Kennedy's infamous pronouncement "Ich bin ein Berliner," popularly translated as "I am a jelly donut." While, in truth, the President's statement did not actually liken him to a pastry, the story has nevertheless stuck as a fun and illustrative anecdote.
The same, however, cannot be said for this year's "winners," who experienced unfortunate consequences including loss of sales, credibility, and goodwill. Lesson learned: whether planning a worldwide marketing campaign or simply telling a joke to an out-of-towner, be sure to pay attention to your language and audience, lest you end up winning an award yourself!
5) Siri-ous Mistakes in International Markets
Launching a new product has its fair share of hurdles to overcome, and when you aim for a global release, you can add foreign languages to that list of obstacles. Not only do you need to make sure your advertisements and product information are translated properly, you also need to take a look at something even more basic: the product's name.
Apple and Nokia both seem to have skipped this step in a couple of markets. The iPhone 4S's signature app – Siri, the digital personal assistant – garnered largely unwanted attention following its release Japan. In Japanese, the app's name sounds uncomfortably similar to the word "shiri," a crude word for someone's rear end. While this issue was certainly awkward enough for the company, Apple's embarrassment was compounded by the fact that the app is voice activated.
Nokia experienced similar problems in Spain as they unveiled their latest handset, entitled "Lumia." Unfortunately, the product's unveiling hit an unexpected snag when it was pointed out that in Spain, "lumia" is slang for "prostitute."
4) Italian Vogue Makes the Wrong Kind of Fashion Statement
Fashion magazine Vogue normally enjoys a global readership with localized versions populating newsstands all over the planet. Unfortunately, earlier this year the Italian edition made a world-class translation blunder.
In an online fashion spread about earrings, the magazine referred to large gold hoops as "slave earrings," prompting a swift and severe backlash from its readers. Vogue Italia's editor-in-chief ultimately apologized for the incident, stating that it was a matter of poor translation from Italian to English. Along with its apology, Vogue removed the offending language.
3) No Such Thing as Swiss, Miss
Linguists estimate about 6,000 languages are currently spoken around the world – some with as few as two speakers. Earlier this year, a couple of high-profile figures attempted to raise the number to 6,002 by referring to languages that don't actually exist.
While in Switzerland promoting her movie Cowboys and Aliens, actress Olivia Wilde joked that she was preparing a speech in multiple languages, including Swiss. Trouble is, there is no Swiss language – citizens of Switzerland speak German, French, Italian, or Romansh. When she realized her error, Wilde said she'd switch to Cantonese instead, "to keep things interesting."
Former presidential hopeful Herman Cain made a similar mistake. While sampling some of the local cuisine at a campaign stop in Miami, Cain asked how to say "delicious" in Cuban.
2) The Dalai Lama Walks Into an Unfamiliar Reference …
Humor can be an excellent ice breaker, but only if everyone involved is in on the joke. Unfortunately, no one ever told this to Australian news anchor Karl Stefanovic. In June, Stefanovic had the opportunity to speak with the Dalai Lama, and employed a professional interpreter to bridge the language gap.
During the interview, Stefanovic told an ostensibly innocuous joke: "So the Dalai Lama walks into a pizza shop. And he says, 'Can you make me one with everything?'" Instead of laughter, the joke was met with a confused and awkward silence – the Dalai Lama simply didn't get it.
Sadly, even with expert interpretation, wordplay doesn't always survive the transition to another language, especially not when it's delivered off the cuff and without advance notice. Perhaps with a bit of prep time, the interpreter might have been able to salvage the joke, but as it happened, Stefanovic's attempt at humor fell flat.
1) Manchester Unusually United
There's nothing quite like good sports rivalries, and soccer – or football, if you'd rather – has some of the best. Notably, England's cross-town nemeses Manchester United and Manchester City inspire fervent loyalty in their supporters, and matches between the two teams are known as the Manchester derby.
However, an administrative decision that took place this year has added a new and ironic layer to the teams' contests. One of Manchester City's sponsors, Etihad Airways, negotiated for naming rights to the team's playing field, renaming it Etihad Stadium.
Unfortunately for Manchester City, "etihad" - when translated from Arabic into English - means "unity" or "united." Which means that, much to their chagrin, Manchester City now plays its games in "United" Stadium.
Accredited Language Services would like to congratulate this year's winners, who graciously reminded us all on the importance of good translation and localization. Stay tuned for the winners of next years' awards – but avoid becoming one of them. Professional, accurate translation services like those provided by Accredited Language Services can help anyone avoid next year's big translation error.
About Accredited Language Services:
Accredited Language Services has provided translation, transcription, interpreting, conference and multimedia services for more than 25 years. Fortune 500 companies, technology firms, advertising agencies, government offices, hospitals, banks, law firms and private individuals rely on the professional language solutions from ALS in 150+ languages and dialects.
###