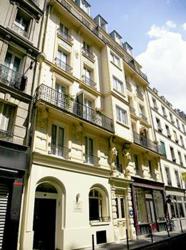 The Hotel de Nemours, a 2-star hotel in Paris's Bastille neighborhood has skyrocketed to 750 Euros.
(PRWEB) December 30, 2011
End-of-year celebrators who plan on ringing in the New Year in Paris better dig deep in their pockets if they haven't already secured a hotel room. According to a recent survey compiled by ParisHotels.net, the City of Light is charging last-minute guests up to 500% more than usual for a New Year's Eve stay.
Waiting until the eleventh hour won't prevent visitors to the French capital from scoring a hotel room on December 31. Indeed, around 10% of Paris hotels are still posting vacancies for the night of December 31 into January 1st. Those who put off booking a room, however, are going to pay for their procrastination with considerable price increases.
The average New Year's Eve rate hike in the city by the Seine is 98%, but a select few hotels are gouging guests by substantially more. Two cases in point are the Hotel Suites Unic Renoir and the Hotel de Nemours, both of which are increasing their rates by over 500%.
The former, a 3-star accommodation in the Latin Quarter, has upped its regular rate of 115 Euros to 698 Euros, while the latter, a 2-star hotel in Paris's Bastille neighborhood has skyrocketed to 750 Euros. That figure represents a 525% spike over the usual 120 Euros.
To be situated in the central neighborhoods near the main tourist attractions, Paris visitors will have to spend at least 200 Euros. Hotels around the Champs Elysees, the Latin Quarter and the Bastille District are all posting room rates at or exceeding that amount. And for primer real estate close to the Eiffel Tower, a hotel guest can be prepared to spend 400 Euros or more this New Year's Eve.
Does that mean budget travelers should kiss their dreams of ringing in the New Year in Paris goodbye? Not necessarily. In the outer neighborhoods of Paris (La Villette in the north, Menilmontant in the northeast, and Montparnasse and Place d'Italie in the south) rooms are still going for around 100 Euros.
Granted, guests at these budget-friendlier accommodations will have a hike to the central New Year's Eve festivities. The Paris metro, however, will run 24 hours that night and will get them to the city center in less than 30 minutes.
For more information about this survey, visit http://www.parishotels.net/press/new-years-eve-2011.html
###