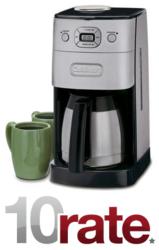 This coffee maker has a great feature set with its grind and view function and stainless steel carafe
(PRWEB) December 30, 2011
10rate.com came out with it's 2012 top coffee makers awards last week with the Cuisinart Grind and Brew Thermal 10 cup coffee maker taking the top spot in the $200 and less category and an 9 out of 10 rating. The editors noted that this coffee maker has a great feature set with its grind and view function and stainless steel carafe. "The grind function works well and produces a fresher, richer flavor in the coffee than you get with pre-ground coffee," notes Sofia Schmidt. "And the price is still very reasonable." The complete list of best coffee makers 2012 includes 7 different brand names.
The Cuisinart CHW-12 is also a top choice among editors of the list due to its ability to brew 12 cups, have an adjustable hot plate for varying carafe temperatures and contains a hot water dispenser for tea. This value model sells for under $100 and may be found for as little as $69. Editors awarded it the top value model of the Top 10 Coffee Makers under $200.
Editors awarded the Black and Decker DCM2500B with the best budget model award at a very attractive $38 price tag and noted that the unit had solid functionality with automatic programmable timing, a 12 cup capacity, hot plate, automatic shut off after 2 hours and other very nice features for such a low cost maker.
10rate.com will soon be releasing other coffee maker reviews of super automatic top 10 coffee makers as well as the top 10 espresso makers. "We're close to finalizing those lists," notes Sofia Schmidt. I'm stepping away from caffeine for a while after reviewing all these coffee makers..."
10rate.com conducts reviews in various product and services categories and publishes "Expert Top 10 Lists for Everything in your life." All products and services are thoroughly researched by the companies expert editors prior to receiving a rating on a 1-10 scale. In addition to product reviews the companies editors write guidelines and articles on various topics surrounding each product or service category covered.
###