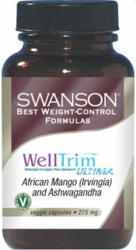 Swanson Best Weight-Control Formula line now includes a powerful African Mango-based supplement, WellTrim™ Ultima
Fargo, ND (PRWEB) December 30, 2011
On average, Americans gain seven to twelve pounds during the holiday season beginning with Thanksgiving and continuing through the New Year. The Swanson Best Weight-Control Formulas line now includes a powerful African Mango-based supplement, WellTrim™ Ultima African Mango and Ashwagandha, which features components to fight appetite and stress to aid in post-holiday weight management.
Vegetarian formula WellTrim Ultima features extract of the African Mango (Irvingia), a traditional West African fruit containing a seed with a long history of use for health and wellness. The African Mango seed extract has been used for its antioxidant properties as well as to manage weight. WellTrim Ultima also features Ashwagandha (Withania somnifera), which is a revered adaptogen (a substance that supports the body's resistance to physical, chemical and biological stressors, bringing about balance and homeostasis). Ashwagandha specifically has been used to reduce stress, revitalize and energize the body. The patented African Mango and Ashwagandha extracts have been tested individually for weight loss and percent reduction in stress-related symptoms in randomized, double-blind, placebo-controlled human clinical trials.
Swanson Health Products is an industry leader in bringing vitamins directly to consumers at the lowest prices possible. Swanson Health Products, headquartered in Fargo, ND, offers the highest quality vitamins, supplements and natural health care products and is Good Manufacturing Practices certified. Swanson Health Products goes a step beyond its competitors by offering powerful guarantees. All products are backed by a 100% Satisfaction, Money-Back Guarantee. For more information, please visit http://www.swansonvitamins.com.
###