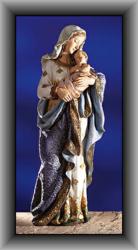 We are very proud to add this beautiful religious statuary line of products to our Catholic online store. It is a wonderful way to express your faith and devotion to Jesus, Mary, and the saints as you display one of our religious statues.
Pataskala, OH (PRWEB) December 30, 2011
Holy Cross Necklaces announces the launching of it's new Religious Statuary line of products. Each statue is exquisitely sculptured and artfully detailed to express the beauty and grace of our dear blessed mother Mary, the love and compassion of Our Lord Jesus, and the fortitude of the holy angels and saints. The statues include Old World European hand painted works of art trimmed in gold with finely detailed and solemn facial expressions and embossed garments from the Sacred Devotions Collection. The Bellavista Collection of statues features beautifully detailed and painted faces in soft traditional colors and tones. The Toscana Collection of statues is inspired by the wood carved statues of southern Italy and are also exquisitely detailed. These statues are made of stone resin and range in size from 4 inches to 28.5 inches high.
We also offer gorgeous Italian hand crafted and hand painted Basilica Church Statuary. These wood replicas are hand crafted and hand painted, made of stone resin and measure 36 - 48 inches high.
Marianne Buzzelli, owner explains," Holy Cross Necklaces has focused on cross necklaces, rosaries, and religious jewelry, and we are excited to extend the products in our online Catholic store to include glorious works of religious statuary."
As we celebrate the octave of Christmas and the feast of the Holy Family this week, it is most appropriate to honor our dear Lord Jesus and His Blessed Mother as we display this most beautiful Madonna and Child Statue. During this blessed season of Christmas we can only hope that as we look upon the images of Jesus, Mary, and Joseph that we will find the inspiration to live in love as Jesus taught us and offer works of charity and mercy to all those people who are placed in our lives.
At Holy Cross Necklaces our Catholic faith has been the center of our lives for many years. We have found the use of cross necklaces, saint medals, religious jewelry, and religious statuary to be a wonderful way to demonstrate our faith. We strive to offer the best quality products available. Customer service and satisfaction will always be the key to our success. We will never forget that we work for you.
For more information please contact http://holycrossnecklaces.com/
###