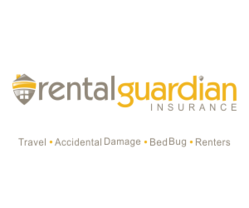 Doing more with less... automating your insurance processes will increase your customers Take-Up-Rates
Irvine, CA (PRWEB) December 30, 2011
Leaders in property management insurance, web-based insurance software, and customer and asset management systems, today jointly announced their creation of Rental Guardian, LLC. The new company unifies the unique and extensive experience and expertise of its co-founders and will serve the property management and vacation rentals markets with its web-based insurance applications and unique line of insurance products that include travel insurance, accidental damage insurance, bed bug insurance and renter insurance.
"Combining our strong relationships with vacation rental software providers and insurance underwriters with the robust technology acumen and insurance relationships of our co-founders will provide a valuable set of solutions for our vacation rentals management clients," said Brady Stump, co-founder.
"With our years of experience in web-based software development and our extensive knowledge of customer service delivery and support systems, Rental Guardian is a true synergy of best-of-breed expertise that will help make our clients successful and very satisfied," said Donn Gore, co-founder.
Sean Miller, co-founder, added "with offices on both the East and West coasts, and in the Mountain West, we are uniquely positioned to fulfill the travel insurance and damage insurance needs of the vacation rentals industry nationwide." Added Stump, "With these core solutions coupled with our new bed bug coverage and renters insurance, our value proposition to property managers is a very compelling one."
About Rental Guardian
Unifying the expertise of over one hundred years of experience of its founders, Rental Guardian serves vacation rental property managers with a unique portfolio of insurance products on an innovative web-based service platform. Its product line include travel insurance, accidental damage insurance, renters insurance, bed bug insurance and other products. Rental Guardian's insurance products are underwritten by (A) rated underwriters (as determined by AM Best Insurance Ratings). Its web-based service platform has been created so that property managers, vacation rental software providers, and travel portals can easily integrate these insurance products into their service and management processes and platforms.
About the Co-Founders
Rental Guardian's Founding members are Sean Miller, Brady Stump, Donn Gore, Peter Djokovich and David Hays. The founders combine extensive personal and business experience in insurance sales, insurance product development and delivery, property reservation systems, customer relationship and service management systems, e-marketing, PCI-compliant data centers, banking/finance asset/liability management systems, regulatory compliance, and enterprise performance management systems. For additional information visit online at RentalGuardian.com or call 1.888.885.5550.
Contacts:
Brady Stump - bstump(at)rentalguardian(dot)com
###