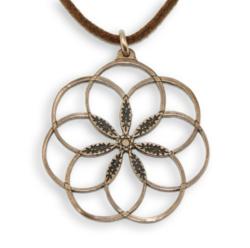 We turn bombs into beauty, hate into love, and war into peace. --Paul and Sandee Ogren
Harbor City, CA (PRWEB) December 31, 2011
FaeriesDance.com has teamed up with the company From War To Peace to provide wider distribution for a thoughtful jewelry line made from disarmed nuclear weapons cabling. Each piece of jewelry is designed with a vision of peace. From the ever-recognizable Peace Sign to more subtle images of the of the Tree of Life, Spiral, Lotus Flower and Love Birds, the line invokes beauty while being fully recycled and sustainable.
From the late 1940's into the early 1980's, immense quantities of copper were mined in Montana to create copper cable. Throughout the upper Midwest, thousands of miles of cable connected nuclear warheads in silos to U.S. military command centers. Since the late 1980s, the U.S. has entered into a number of nuclear disarmament treaties. The cabling connecting the disarmed nuclear missile silos was left in the soil of the American Midwest. This cabling, up to 3.5 inches in diameter and made of plastic, copper, and steel, was buried deep underground to keep it impervious to nuclear assault. From War to Peace, has patiently dug much of this missile cabling out of the soil, recycled the metals into their pure forms, and used the copper to create a wonderful alloy called Peace Bronze© from which their jewelry is made.
FaeriesDance.com hopes to get the jewelry line wider distribution both here and overseas by offering it as an accessory to their organic clothing line. Since FaeriesDance.com caters to the environmentally conscious consumer, it seems a perfect pairing. All of the jewelry is made in the USA.
About FaeriesDance.com
FaeriesDance.com is an eco-friendly e-tailer offering sustainable apparel and specializing in hard-to-find items such as organic cotton lingerie and intimates. The company is named after the mythological woodland creatures that live in the heart of the forest, honor all things in nature, and who celebrate life with joyous abandon. In addition to providing beautiful organic clothing and eco-friendly accessories, FaeriesDance.com is committed to providing a complete environmentally-conscious shopping experience for its customers. Their clothing is made from sustainable fabrics and low-impact dyes. The company sources products from both U.S. and overseas manufacturers who ensure that all workers are treated fairly and are safe from sweatshop conditions. FaeriesDance.com has even gone to great lengths to provide consumers with environmentally sound gift wrapping options. They strive to help everyone "Go Green Right Down to Their Skivvies."
###