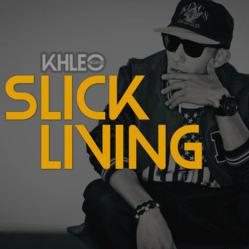 Miami, FL (PRWEB) December 29, 2011
Artist Khleo Thomas recently released his mixtape "Slick Living." Presented by Executive Dream (a partnership between Executive Music Group and Dream Big/Hustle Hard Firm) and Coast 2 Coast Mixtapes, it is now available for free download. "Slick Living" features Khleo Thomas on all-original tracks. Production credits include D-Flow, The Monsters, The Strangerz, G Styles, White Mike, The Hitbangerz, and Chris Batson—who combined have worked with world-renowned artists such as Diddy, Flo Rida, Soulja Boy, Trey Songz, T.I., and Ice Cube.
Khleo Thomas is most widely known for his role in Disney's major motion picture Holes, where he played "Zero" alongside Shia LaBeouf. Khleo co-wrote the theme song "Dig It," which was featured on the Holes soundtrack and maintained its spot at #1 on Radio Disney for 12 consecutive weeks. He is also known for his involvement with music superstars Soulja Boy, Sean Kingston, and Bow Wow. "Slick Living," which was recently on the top-rated blog KarenCivil.com, is the lead up to Thomas' debut album, which is slated for release in early summer 2012.
In addition to the promotion of "Slick Living," Thomas has so far been receiving great numbers on sites like AOL Music, Datpiff.com, Yoraps.com, and many more. He is working in conjunction with Beats by Dre for a headphone giveaway, is sponsored by Monster Energy Drink, and is preparing to tour in 2012. In addition, Thomas now has more than one million combined related YouTube video plays. To keep up to date with Khleo's music, watch his weekly broadcast on UStream's homepage every Friday at 6 PM PST.
"Slick Living" is available for free streaming and download at http://coast2coastmixtapes.com/mixtapes/mixtapedetail.aspx/khleo-slick-living
# # #