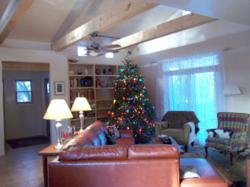 We wish You a Sustainable New Year from Natural Homes of Santa Fe, New , Mexico
Santa Fe, New Mexico (PRWEB) December 30, 2011
In 2011, Natural Homes of Logic Real Estate in Santa Fe, New Mexico launched a new line of affordable energy efficient homes including the holy grail of energy efficient homes, the Zero Energy Home. Alan Hoffman, director of Natural Homes said "In 2011 we completed one home and started two more. In 2012, we already have a number of clients looking for suitable lots to locate a Zero Energy Home, and anticipate building 12 homes this year". There are presently three plans that have been built in the past and have been refined and proven to provide a high quality of life for its residents. These plans at 1,200, 1,400, and 2,100 square feet are surprising affordable with complete homes, including lot, starting at $279,000.
Hoffman said "One thing that we learned in 2011 is that all kinds of people want energy efficient homes". To offer a low carbon life style to the widest section of the population, Natural Homes, working with Renaissance Builders now offers a custom Zero Energy Home in the Santa Fe area. These homes can be built on almost any lot in any style and can be exactly the size and design a client needs. Where as these homes are a bit more expensive than the existing plans, they are still quite competitive to other custom homes in the Santa Fe area with the additional savings of zero energy costs for the life of the home. That means, loading future energy costs into today's mortgage at the lowest mortgage rates in recent history.
With the advances in solar and building science, it is a wonder that every home built in America isn't at or near Zero Energy? Now it is possible to make the decision to build a Zero Energy Home of your dreams for two reasons. To protect the world for our grand children and to save money today. Natural Homes hopes that more people in 2012 choose the Zero Energy Home for the benefits of today and tomorrow.
Contact: Alan Hoffman at 505-316-0449 or at Village(at)NewVillage(dot)com
###