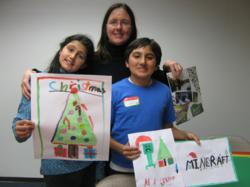 "The realities of life with epilepsy are often misunderstood and neglected. Many with epilepsy are left feeling even more alone during the holidays…making vacations more necessary yet much more difficult."
Los Angeles, CA (PRWEB) December 30, 2011
The Epilepsy Foundation of Greater Los Angeles ends the year with holiday parties to bring together families of children with epilepsy, adults with epilepsy, and their family members and friends. These two special events help combat the isolation that is often associated with epilepsy by connecting individuals and families who are affected by epilepsy to others who know and understand.
"The realities of life with epilepsy are often misunderstood and neglected. Many with epilepsy are left feeling even more alone during the holidays. Seizures can place a huge strain on the individual's health, finances and on family life, in general, making vacations more necessary yet much more difficult. Stress is a well-documented trigger for seizures, and even holiday stress can have a negative impact. Thus, it is imperative that we help provide outlets for families to come together to enjoy some fun and respite in a safe, welcoming environment," explains Susan Pietsch-Escueta, Executive Director of the Epilepsy Foundation of Greater Los Angeles.
The Holiday Party for Adults and Friends on December 10, 2011 featured a reception and an exhibit featuring original artwork created by members in our Studio E: Art Therapy Program, a four-week program, sponsored by Lundbeck, and led by art therapist Andrea Bellini Spelling during Fall 2011. The following local stores and eateries generously donated food for the reception: Coffee Bean and Tea Leaf, Fresh and Easy Neighborhood Markets, The Jerk Shack, Subway, and Tumby's Pizza. The festivities concluded with an open art therapy session where participants created artistic pieces to take home, had an opportunity to strengthen their artistic voice, and learned from others in a safe, welcoming environment.
"In a nutshell, the Adults and Friends Holiday Party combats isolation and loneliness, and many participants make plans to continue cultivating friendships with each other and several have chosen to continue to use art as a communicative medium," said Rebekkah Halliwell, Assistant Director of the Epilepsy Foundation of Greater Los Angeles.
The artwork produced through the Studio E: Art Therapy Program and Adults and Friends Holiday Party will be on display for the public to view at the Epilepsy Brain Storm Summit Conference at the Cathedral Our Lady of Angeles in Downtown Los Angeles on February 25, 2012.
On December 17, 2011, dozens of families fought through holiday shopping traffic, driving from as far as San Bernardino County, to attend the Family Holiday Party held at Mychal's Learning Place in Hawthorne, CA. Children made ornaments, decorated cookies, played games, and received donated toys while the Art of Elysium led seasonal arts and crafts activities. The Family Holiday Party also marked the launch of the Epilepsy Foundation of Greater Los Angeles's Shining Star program, which connects children with epilepsy to each other and helps ensure that each and every child feels special by celebrating the unique gifts they have to offer.
The festivities were capped off by a visit from Santa Claus, bearing gifts and spreading holiday cheer, as well as a heartfelt performance by Tatiana Rocky, a 13-year old girl with epilepsy. Tatiana sung uplifting original songs about her experience with complex partial seizures and encouraged the crowd to take charge of their epilepsy and speak up to spread awareness.
The Epilepsy Foundation of Greater Los Angeles plans to continue hosting supportive care events in 2012 to inspire hope in the fight to end epilepsy.
About Epilepsy
Without warning, seizures can happen to anyone at any age. When a person has two or more unprovoked seizures, they have epilepsy. Seizures do not all look the same and, according to the International League Against Epilepsy, there are currently more than 25 different recognized epilepsy syndromes affecting almost 3 million people in the U.S. and about 60 million people worldwide. Someone is diagnosed with epilepsy every three minutes and, this year alone, another 200,000 people in our country will be diagnosed. To date, there are no known cures.
About the Epilepsy Foundation of Greater Los Angeles
Established in 1957, the Epilepsy Foundation of Greater Los Angeles is the only nonprofit, 501(c)(3) charitable organization dedicated solely to serving the almost 160,000 people living with epilepsy throughout the 4-county region of Los Angeles, Orange, San Bernardino and Ventura. The Epilepsy Foundation of Greater Los Angeles is leading the fight to END EPILEPSY® and the burden of seizures. We focus on care, advocacy, research and education. http://www.END-EPILEPSY.org
# # #