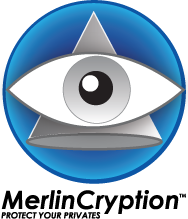 Every IT professional needs these three savvy tools on their desktop.
Austin, TX (PRWEB) December 31, 2011
Making a New Year's resolution to protect privacy in 2012 just got easier with three free software programs released by MerlinCryption. Highly useful and handy, MerlinFileView, MerlinShred, and MerlinMD5 inspire good security habits that every data protection toolbox should include.
Created specifically for IT professionals and programmers, MerlinFileView views the contents of any file in hexadecimal. Users have the advantage to open a file or application in 'read only' mode, without running and exposing risk.
While having the capacity to visually check file type or program structure is a convenient benefit for programmers, the value of this tool lies in its prowess for forensic analysis.
"Criminals hide malware in files and applications," warns Paul "Prem" Sobel, MerlinCryption CTO. "When a mysterious folder, file, or program appears on the system, use MerlinFileView to explore the contents and then take appropriate action, if needed. This simple precaution can derail a disaster."
Programmers can see file contents in hexadecimal, observe configuration settings, modify, and reverse engineer, as desired. On a fun note, gamers can view the content of their saved games and alter it to beat the level.
Also released, MerlinShred, is used to permanently destroy files containing private information with a five-pass overwrite and delete feature.
"Don't leave sensitive data in your computer's recycle bin," advocates Sobel, "Why shred paper documents, yet leave the same sensitive information unprotected on the computer? Any corrupt level-one computer admin has the skill to hack in and steal it (Much easier than dumpster diving and cleaner, too)." Sobel urges to encrypt or remove all confidential data from risk on any computer or device.
Another forensic tool, MerlinMD5, assures absence of foul play to a file or program by calculating and confirming its MD5 hash.
MD5 is a cryptographic hash function, which is a deterministic procedure that takes an arbitrary block of data and returns a fixed-size bit string. This string of bits is called the (cryptographic) hash value. If there is any change to the data (accidental or intentional) the hash value will also change.
Security experts recommend that consumers check the MD5 hash of all software programs after downloading from a trusted site and before running the program. Record the MD5 hash after running MerlinMD5 to establish a basis of comparison, should the file ever change. This "best practice" step is easily accomplished by saving the log file.
MerlinCryption emphasizes that prioritizing security and privacy is a worthy resolution and is offering this free software release to encourage users to make safety a habit in 2012 and beyond.
About MerlinCryption LLC
A software technology company in Austin TX, MerlinCryption LLC develops invincible data security solutions that combine powerfully robust encryption products with surprising affordability and functional ease.
Leading edge MerlinCryption technology secures data-at-rest and data-in-motion, and pioneers innovative products to protect data-in-use and data-in-change. The unprecedented encryption protects file, email, instant messaging, password, and broadcast data as it is created, viewed, edited, shared, stored and moved around the Internet and around the world. Experience how MerlinCryption architecture is changing the way the world protects data.
###