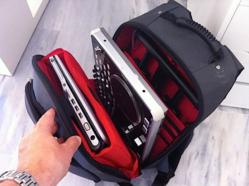 The Lil Namba is the best bag I've seen yet.
Portland, Oregon (PRWEB) December 31, 2011
"The Problem. Your New Gear Doesn't Fit Your Old Bag," reads the headline by Digital DJ Tips.com editor Phil Morse at the beginning of the video that accompanies the online product review of the Lil Namba Remix Backpack. Known for their hard-hitting consumer advocate stance and thorough reviews of musician and dj gear, Digital DJ Tips.com reviewed Namba Gear's Lil Namba Remix Backpack and awarded the product 5 Stars out of a possible 5 Stars.
The high performance laptop bag scored high in all three primary categories: features; build quality; value. Although Namba Gear products are designed with the needs of musicians and djs in mind, students, business people and many others that require a high performance laptop solution have discovered their products.
Namba Gear owner, Woody Moran, commented, "It's rewarding to see the hard work and craftsmanship that goes into our products being recognized; and not just for the construction and materials, but also for the great value these products represent."
Read the entire review at Digital DJ Tips.com.
Namba Gear products are available via musical instrument & dj retailers, Amazon.com, Best Buy online, as well as through Namba Gear's online webstore.
About Namba Gear:
Namba Gear is a Portland, Oregon based bag and accessories company that designs and produces premium, high performance transport solutions for the working musician. The essence of the brand is defined by the working musicians and dj's at Namba Gear who are dedicated to creating and delivering exceptional carrying solutions that will stand up to the unique and rigorous workload of professional musicians.
# # #