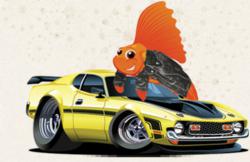 San Diego, California (PRWEB) December 29, 2011
RoadFish.com Men's Magazine supports Ron Paul in running as the 2012 Republican Party's presidential candidate. RoadFish has published their 5 reasons Ron Paul should be president in an effort to spread the word about Ron Paul's values and why they support him.
Nothing is out of bounds for Roadfish.com Men's Magazine. Now they are tackling politics.
The editor of RoadFish.com was quoted saying, "I am sick of the Republicans because over the last 20 years they have gone out of their way to lead us to killing people in other countries who have done nothing wrong. The Democrats on the other hand have tended to be weak and waste money on social programs that are psychobabble and don't get anything done. The original gang, James Madison, Thomas Jefferson, John Adams, and Thomas Paine had it right. The U.S. Constitution rocks and even the system to amend it rocks. Ron Paul is a strict constitutionalist. The Constitution worked the first 200 years so I say let us go with it."
On September 17, 1787, the United States Constitution was adopted by the Constitutional Convention in Pennsylvania. It was then ratified on June 21, 1788 after New Hampshire's approval. The United States Constitution has been in effect and working for the last 223 years.
Ron Paul is also from Pennsylvania, born and raised. He is a doctor, was a flight surgeon in the Air Force, has been a member of Congress since the late 1970s, ran for President twice, once in 1988 and again in 2008, and possibly once again in 2012. His allegiance to the United States Constitution is unwavering. His believes in a monetary policy that makes sense and advocates open competition in currencies to battle inflation and our current system of using fiat money.
Roadfish.com has presented their reasons to vote for Ron Paul in the upcoming election.
About RoadFish.com
RoadFish.com is an online Men's magazine targeted toward men in their 30's and 40's that have already attained a moderate level of success in life, and are striving toward more. It goes over current events of interest to this group, such things as promoting your business product, as well as ways to make more and save more money. It is a publication owned by Purpose Inc.
###