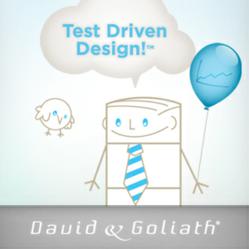 Test Driven Design™ allows our customers to avoid costly mistakes.
Montreal, Qc (PRWEB) December 31, 2011
Well established as a traditional communication agency, David&Goliath® is proud to announce the creation of a new web marketing team covering the areas of Search Engine Optimization (SEO), Pay Per Clic Advertising (PPC), Analytics and Ergonomy in order to offer complete web agency services to its customers. "What is great about web marketing," says Bachir Saouaf, President of David&Goliath, "is that with the proper analytic tools and approach, you can measure results in an accurate way and constantly perform adjustments in order to maximize the return on investment."
From its humble beginnings, David&Goliath has developed significantly over the years and worked consistently to develop the best advertising solutions for its clients. The company's aim isn't to be the "biggest", but to be best at providing powerful and effective advertising strategies.
David&Goliath offers complete communication and marketing services. From packaging design to branding and advertising strategies, it also developed proprietary web solutions including an e-commerce software designed to facilitate marketing on the web. Optimized for search engines, the e-commerce software is also integrated with major shopping sites and feeds such as Amazon, Shopping.com and Bizrate.
David&Goliath also offers their customers a unique work method, Test Driven Design, which blends the needs of the client and market research to provide effective solutions and solid data on advertising and marketing projects.
"Many organizations come to the market with designs and concepts that are based on the marketing manager intuition or the designer taste, but if those people aren't part of the targeted demographic, the results can be ineffective", says Saouaf. Test Driven Design™ allows our customers to avoid costly mistakes and it provides them with important data at a fraction of the cost of a traditional research-creation-research process.
What makes David&Goliath unique from the competition is the philosophy they incorporate to their work methods: the importance on maintaining a close partnership with its clients throughout the process. Not only does David&Goliath® apply the right strategies to meet their clients' needs, but they also coach their customer employees in order to increase their abilities and involvement in implementing those strategies.
About David&Goliath
David&Goliath is a Montreal-based communications firm offering integrated design, marketing and web service. The company specializes in high end print and web projects. Founded in 1997 by Bachir Saouaf and Carole Leduc, David&Goliath distinguishes its work by systematically testing concepts before marketing them. Its research-based approach has been successfully used for clients such as the University of Ottawa, Royal Airlines, Montreal World Film Festival and Hotel Le St-James.
# # #