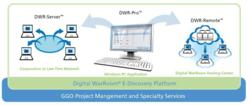 "We are seeing growing demand for e-discovery of content from cloud applications, WIKI servers, and social media sites – all of which are becoming increasingly common in litigation."
Seattle, WA (PRWEB) December 30, 2011
Gallivan, Gallivan and O'Melia (GGO, LLC), the e-discovery experts driving the move toward accessible, affordable e-discovery solutions, today announced a new operations and support center in New York City. The new center will accommodate operations staff, project managers, e-discovery consultants, trainers and technicians to support law firms and corporate clients in the New York metro area, as well as hosted review services for clients throughout North America.
GGO staff at the New York center has offered data collection and forensics, e-discovery consulting and project management to law firms and corporate legal counsel since 2002. The New York team also provides law firms and litigation service providers with secure hosting of case data on the company's Digital WarRoom™ Remote managed hosted SaaS e-discovery application for attorney review, annotation and production. To meet the growing demand, the company has doubled the hosting capacity in its SAS70 grade hosting center.
"We are experiencing growth in the Digital WarRoom products and GGO consulting services, resulting from two key trends" said Robert Powell, executive director of GGO's eastern region operations. "As law firms increasingly seek to establish or strengthen in-house e-discovery practices, they need cost effective solutions for processing and reviewing client data in the new world of fixed fee legal services. Digital WarRoom WorkGroup™ answers that need with a complete e-discovery system from processing through production of documents. We are also seeing growing demand for e-discovery consulting services related to the collection, processing and review of content from cloud applications, WIKI servers, and social media sites – all of which are becoming increasingly common in litigation."
The new office is located at 241 West 37th Street, New York, NY 10018. In addition to the New York offices and hosting center, Digital WarRoom operates secure data hosting centers in Seattle, Dallas, and Santa Clara California.
About Digital WarRoom
In 2011, Gallivan Gallivan & O'Melia announced two new products, extending Digital WarRoom technology in configurations for in-house use by corporations and law firms:

Digital WarRoom Pro, the first PC based product for e-discovery, allowing an individually licensed user to conduct complete e-discovery on a Windows computer, and
Digital WarRoom WorkGroup, a client-server application that allows corporate IT, in-house legal, or law firm e-discovery practitioners to manage e-discovery case data processing, document review and production without high priced volume-based processing.
About GGO
Since its inception in 2002, GGO (Gallivan Gallivan & O'Melia LLC) has successfully completed over 3000 complex e-discovery matters. In 2010 GGO introduced the Digital WarRoom® line of software products spanning the entire e-discovery lifecycle from capture through processing, review, and production. Customized services include M&A target data preservation and internal data mining and investigations. Headquartered in Seattle, GGO offices are located in New York, Santa Clara, San Francisco, Dallas, Los Angeles, and serves all metropolitan markets in North America. Leading global corporations, Fortune 1000 companies, Am Law 100 law firms, and government agencies, including the Library of Congress, rely on GGO for robust technology and personalized service. To learn more about GGO, visit http://www.digitalwarroom.com
###