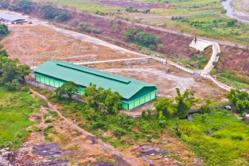 TGEG will soon prove to be the greatest investment opportunity of the 21st century.
Clark Freeport, Phillippines (PRWEB) December 29, 2011
True Green Energy Group, ISIN number CA8724191066, Cusip number 872419106 trading on Deutsche Borse AG under the stock symbol TGG.F, announced that it had signed a (LOI) with Beltran Technologies Inc. to supply, deliver, supervise and install Twenty (20) units of its complete modular standard MSW gasification systems which will supply approximately 4000 Nm3/Hr Syngas to Syngas power generation with (2MWeh) plus a surplus of thermal heat of an additional (2MWth) that will be sent to various landfill sites around the globe.
Because of the enormity of this contract and with so many contracts already in place By True Green Energy Group, Beltran has agreed that the time to design, fabricate, build, supply and deliver shall not exceed (4) months and installation of said system shall not exceed one (1) month. The entire system includes gasifier reactor with ash discharge, gas clean up system including, cyclone filters, heat exchangers WESP, gas suction blower, pipe work, syngas flare stack, instruments with control system and steel frame structure. The lump sum price for supply and delivery of these systems is approximately one hundred forty five million USD.
Ronald Flynn, founder, and chairman of the board said, "Our energy consortium includes companies from around the world. These companies include True Bio Electric, CJ consortium, in addition to other green energy technologies from other countries and partners like Voga brazil, Pacific tech, True green planet, and Spectrum Blue Steel Corporation.
The TGEG green energy consortium estimates that in the first phase of its project alone it will employ 11,000 people in 3 major provinces in the Philippines. The consortium plans to expand that number to 100,000 within 18 months of the first system being installed in the city of San Fernando Pampanga Philippines. The expansion was made possible by investments made by Pioneer shareholders and CJ Consortium who became stockholders in TGEG and finalized a one billion euro (1,000,000,000.00) line of credit to fund TGEG Bio Green power plants and low cost housing projects".
Thermal treatment plants have the advantage of reducing the amount of waste to about one third and use the energy in the waste to produce, useable syngas, heat and electricity. The residues are inorganic ashes, which can be land filled or utilized in the construction of the low cost housing units we are building around the world. TGEG biomass waste gasification technology is based on a moving bed modified gasification technology and reaches significantly higher temperatures than furnaces.
The ultimate result is a higher through put performance in a small area. TGEG gasification and gas clean up technology is not based on combustion/incineration but rather on gasification. The good news is all of engine exhausts air and wastewater is completely purified by the integrated exhaust air and wastewater modules and thus can be released back to the environment. The fact is with the Beltran (WESP) wet electrostatic precipitator the system will achieve an efficiency of above 98%.
Ronald Flynn, founder and chairman of the board said, "With the combination of TGEG viable renewable energy resources and landfill sites, coupled with energy efficiency, conservation and smart grid development for low cost housing we could lead the world in energy independence and a cleaner, more sustainable energy infrastructure — but also to what will soon prove to be the greatest investment opportunity of the 21st Century."
True Green Energy Group strategy is to "de-carbonize" the electric power generation industry by shifting to non-fossil fuel-based energy sources, specifically energy-from-waste. This follows the Energy Policy Act of 2005 and the Renewable Energy Law (RA 9513) of the Philippines that confirms energy-from-waste is renewable, and to build low cost housing for Pilipino families.
This press release contains forward-looking information within the meaning of Section 27A of the Securities Act of the 1933 and Section 21E of the Securities Exchange Act of 1934, and is subject to the safe harbor created by those sections.
Contact: Ronald Flynn
Princeflynn(at)yahoo(dot)com
+639999989999
###