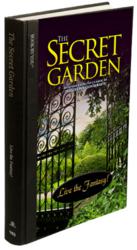 The Secret Garden is one of the most captivating, touching children's novels in English literature. Readers won't be able to put down the this personalized edition
London, Ontario (PRWEB) December 30, 2011
BookByYou.com has over forty personalized novels released through it's classic, romance, teen, kids and mystery imprints. Previous books also recently launched from the company's classic imprint include the beloved Jane Austen novels, Pride and Prejudice and Sense and Sensibility, which were bestsellers over the holiday season.
In the personalized The Secret Garden, girls can take the lead role and star as Mary, a spoiled, sullen orphan sent to live with her uncle in his mysterious mansion. Thanks to a kindly maid, Mary discovers a forbidden garden that needs her to restore its beauty; in turn, she blossoms as well. With two friends--her sickly cousin Colin and good-natured young gardener Dickon--Mary experiences the wonders of nature and the healing bonds of friendship. Thanks to this personalized edition, children can actually explore this secret, beautiful setting themselves, since all these roles are customizable. Customers can select the names and physical features such as hair and eye color, making each book as unique as its recipient.
Mike Pocock, founder of Book By You, comments: "The Secret Garden is one of the most captivating, touching children's novels in English literature. Kids have connected to this story for a century, and I know many nostalgic adults will want to purchase the book for both their children and themselves."
To purchase Book By You® personalized books, readers go to the company's website at http://www.ClassicBookByYou.com and complete a character questionnaire specifying the information to be included in their book. The company offers a free demonstration area where readers can preview personalized excerpts from any of the company's classic, teen, romance, mystery or children's novels.
Media interviews and promo images are available upon request.
###