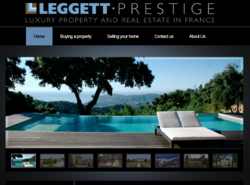 Within the Leggett Prestige portfolio you will find a hand picked selection of the most beautiful homes available throughout France today
(PRWEB) December 30, 2011
Leggett Immobilier have just launched their new prestige property website which markets some of the most prestigious properties currently for sale in France.
Despite the current economic turmoil, Citi Bank and Knight Frank's global wealth report 2011 reveals that the collective wealth of "high net worth" individuals rose by 22% in 2011 and property remains close to their hearts, taking up 35% of their average investment portfolio. France hosts some of the most attractive properties in the world and Leggett is hoping to woo investors and buyers by marketing a comprehensive cross-section of prestigious properties.
Jane Berry, editor in charge of the high-end portfolio, comments:
"Within the Leggett Prestige portfolio you will find a hand picked selection of the most beautiful homes available throughout France today all backed up by a professional sales team that provides a personalised and discreet service to both sellers and buyers".
Leggett Immobilier are one of the leading international estate agencies in France, with over 7,000 properties currently for sale through their main site http://www.frenchestateagents.com.
Each year they receive over a million page views from more than 170 countries around the world.
###