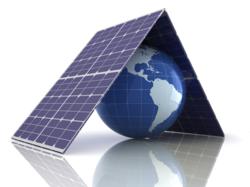 Mono-Like: Cost Less, Generate More.
Baton Rouge, LA (PRWEB) December 31, 2011
Louisiana based solar supplier Renogy LLC is proud to announce its new product line of mono-like crystalline solar modules, including the polycrystalline 240watt type.
As a global solar supplier that produces solar ingots, wafers, cells and modules, Renogy's vertical integration allows it to provide competitive pricing for its photovoltaic crystalline modules, including both monocrystalline and polycrystalline modules. Renogy is committed to providing its customers with the best quality at a great price, and the new line of mono-like crystalline solar modules will continue this commitment.
Renogy's mono-like crystalline modules are created through a state of the art process which offers the best features of both monocrystalline and polycrystalline manufacturing. The cost to produce these high quality mono-like solar wafers is about the same as conventional polycrystalline solar wafers (about half as much as conventionally produced monocrystalline wafers), while providing higher efficiency. In addition to offering low cost per unit, the process features low defects and a high efficiency rating (more than 18%). It also helps reduces waste and energy usage during the production process. For example, producing high-quality monocrystalline wafers usually involves heating silicon to over 1,400 ° C, consuming a lot of energy.
Many state governments offer incentive programs for solar projects especially those involve residential rooftop solar systems. The limited space available for those systems results in a demand for high efficiency solar cells. Mainstream, low cost polycrystalline solar cells can only achieve conversion efficiency around 17%. Monocrystalline solar cells with a higher efficiency rate cost much more than polycrystalline ones. This situation limited the development of many residential projects.
By combining the benefits of monocrystalline and polycrystalline solar module manufacturing, Renogy can help save installation space while cutting the cost at the same time. We believe the mono-like panels are going to dominate the market in the very near future. As one of the few manufacturers that produce this type of module, Renogy is able to supply its customers with the very best solar solutions. If interested, please contact solarpv(at)renogy(dot)com or 225-578-5182.
About Renogy LLC
Renogy is a global producer and distributor of solar panels. Being vertically integrated from solar ingots to solar modules, Renogy specializes in developing turnkey PV projects and delivering the most reliable and cost effective solar energy solutions. By strategically partnering with leaders from different industries, Renogy creates added value for their clients. Renogy's state of the art production of top quality solar cells and the use of superior accessories enable them to produce high performance solar modules that maximize the energy yield of the solar system per unit area.
###