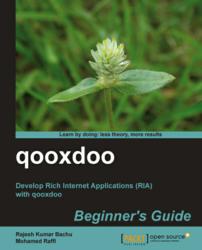 BIrmingham, UK (PRWEB) December 30, 2011
Packt is pleased to announce qooxdoo Beginner's Guide, a new book that will assist users to become competent Rich Internet Application developers in qooxdoo. Written by Mohamed Raffi and Rajesh Kumar Bachu, this book will enable users to gain the knowledge on core object oriented programming concepts, and design and implementation of RIA in qooxdoo.
qooxdoo is a universal JavaScript framework that enables a user to create applications for a wide range of platforms. With its object-oriented programming model, readers can build rich, interactive applications (RIAs), native-like apps for mobile devices, light-weight traditional web applications and even applications to run outside the browser.
qooxdoo Beginner's Guide book explains the rich user interface development and the various concepts of qooxdoo framework in detail, thus making it simple for novice as well as experienced developers. Furthermore, this book will teach developers the core programming techniques in qooxdoo, testing & debugging qooxdoo applications, internationalization of qooxdoo applications to multiple languages, and customizing the look and feel of qooxdoo applications using Themes and Performance management.
Using this book, architects will be able to communicate through RPC-based AJAX calls, to use light weight JSON to pass the data between client and server, to get well versed with Containers and Layout Managers, to learn most of the off the shelf widgets provided by qooxdoo in an organized way, to improve performance of the qooxdoo applications, to create reusable custom widgets for their qooxdoo applications, and to develop enterprise applications in qooxdoo.
Packed with various design and implementation concepts, this book is ideal for beginner and skilled client side developers, who wish to design and develop internet web applications and rich enterprise web applications. The book is out now and available from Packt. To read more about it, please visit: http://link.packtpub.com/2Rl1aX
###