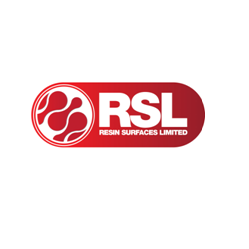 Hazel Grove,UK (PRWEB UK) 30 December 2011
RSL (Resin Surfaces Limited) are one of the first manufacturers in the UK to be awarded fire test certificates for two different ranges of flooring.
European Standards recently introduced specific fire testing for floors. RSL took this opportunity to independently submit their Resuthane and Cemcrete products to be tested in two different categories.
BS EN ISO 9239-1 is the standard test for determination of burning behaviour. A floor is tested by being exposed to a radiant heat source and set alight by a pilot flame. The spread of flames is then measured to test the materials typical burning behaviour. Cemcrete produced excellent results with less than 10% of flame spread from the maximum amount and Resuthane produced less than 20%. BS EN ISO 11925-2 is the ignitability test, which is assessed by applying a flame to the centre of a floor panel to see if it catches alight. Both Resuthane and Cemcrete did not result in an ignition.
RSL are delighted with the outcome of the tests and can now offer products with an independently verified level of performance in a fire situation. Paul Maton, technical manager at RSL commented:
'The main purpose of fire testing is to minimise the consequences of a building fire. In completing these tests we are ensuring we provide customers with the reassurance that they are making their environment as fire safe as possible.
These fire certificates prove that Resuthane and Cemcrete are a great choice for public spaces where fire safety is critical. Resuthane already has excellent chemical resistance and with this new fire standard it is the ideal solution for kitchens, hospitals and industrial areas.
We are really pleased to be industry leaders in fire testing flooring systems and being able to give our customers added confidence in our products.'
As a result of the fire test, Resuthane and Cemcrete achieved a B Classification, the highest European standard achievable for high resin content flooring products, providing the end user with peace of mind that the treated area is not only slip resistant in wet and dry conditions, but is compliant with fire safety standards.
About RSL
RSL (Resin Surfaces Limited) are a leading UK manufacturer of industrial seamless floor and wall coatings and screeds. Trading since 1982 the company has grown to develop a strong base of experienced contractors. A straight talking, independently owned business with market leading products within their extensive range, RSL products are specified by building professionals and blue chip organisations and installed in countries worldwide.
for more information visit http://www.resinsurfaces.co.uk
###