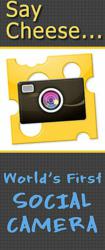 "...plus it has a very cool bonus feature… And that is that it can take picture on voice command."
android-update.org
Orem, Utah (PRWEB) December 30, 2011
A Mashable.com study finds that "27% of photos and videos now captured on smartphones". Expert Liz Cutting "acknowledged that smartphones are taking the place of point-and-shoot cameras and camcorders in many instances — particularly "spontaneous moments". Declining sales of point and shoot cameras is a result of more people taking advantage of the convenience and increased capabilities of smartphone cameras, like rainapps llc's 'Say Cheese' Android based camera. 'Say Cheese' bulk uploads pictures to Facebook and has voice recognition. The rainapps CEO describes the camera as a "kitchen sink" app, though still offers it for free distribution.
About rainapps llc.:
Benefiting from the smartphone trend, 2011 growth for 'Say Cheese' can be quantified in the thousands. Though only released last August, distribution is approaching 50,000 copies, with a user rating 4.3/5 and has nearly 6,500 Facebook fans, with brisk daily growth on both fronts. This trend should continue to benefit 'Say Cheese', strong growth is expected to continue into 2012.
The free Say Cheese Camera App for Android devices is developed by rainapps, llc. Launched in 2010, rainapps successfully blends technology and creativity together, and has already published two free Facebook applications, rainFrames and rainSlides and also has a Facebook marketing suite, PowerUP! Apps. The company founder was previously involved with the software and creative development of Cricut, a popular cutting machine, which earned the #1 infomercial rating. The development team combines over 50 years of technology experience.
###