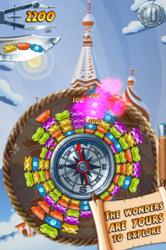 We believe that Around World is a truly beautiful and unique user experience that will leave a lasting impression on puzzle game addicts of all ages
Cupertino, CA (PRWEB) December 30, 2011
Puzzle game addicts searching for an iPad and iPhone puzzler that will take them on the adventure of a lifetime, delight them with superb graphics, and captivate them with addictive gameplay, can now find everything they want and more with Around Wonder, the new app from Inneres Auge.
Around Wonder is an iPad and iPhone puzzler where gamers travel to exotic locations around the globe – from the arid landscape of the Giza pyramids, to the unearthly aura of the Taj Mahal, to the stunning panorama of Macchu Pichhu, and many more spectacular places -- and spin a magic circle to match colored jewels and artifacts. The app delivers endless hours of challenging and relaxing fun for puzzle game addicts of all ages.
Around Wonders offers three addictive game modes: Journey, Sacrifice and Zen:

Journey takes gamers through 10 locations around the world in search of several powerful ancient artifacts. As they attempt to make as many successful matches as possible, gamers discover new pieces and power-ups that make their journey even more interesting.
Sacrifice pits ambitious gamers against a series of tough challenges to test their matching skills and tactical thinking. The goal is to achieve the greatest number of points, and avoid completing a full circle of unmatched pieces – which instantly turns them to stone! Gamers can also access the Around Wonder Game Center and compete against friends.
Zen is an alternative to Around Wonder's brain-bending suite of game modes. Gamers enjoy a relaxing and enchanting experience where they can practice their puzzle skills. It's the ideal game mode for short or long pick-up-and-play sessions.
"Just in time for the holiday season, Around Wonder offers some of the most fun and addictive gameplay available for the iOS!" commented Max Nicoletti of Inneres Auge. "Every location in the app comes alive thanks to beautifully- designed animation, original music and sound effects, and multiple game modes that delight the imagination and senses. We believe that Around World is a truly beautiful and unique user experience that will leave a lasting impression on puzzle game addicts of all ages!"
Around Wonder is available now for the iPad and iPhone in the App Store.
For more information or media inquiries, contact Mark Johnson of appshout! on
behalf of Inneres Auge at +1 408 757 0086 or press(at)myappshout(dot)com.
About Inneres Auge
Inneres Auge Company S.A. is a Romanian company operating in the creative media sector. Our core activities are focused on web, mobile games, video production and sound production. We are a strong group that is brought together by passion, dedication and vision. Our mission is to become an internationally- renowned, highly-respected provider of creative, effective and excellent-quality media services and solutions.
###