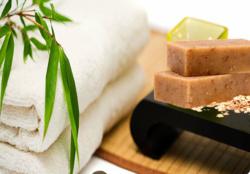 These soaps are handmade with an intention. Use it with intention and you will fall in love with them!
Apex, Raleigh, NC (PRWEB) December 30, 2011
Products made with sake kasu are not uncommon in Japan. Now, SKIN all natural™ introduces premium sake kasu soaps to the American market. These soaps, beautifully handcrafted in USA, are available in four different varieties. Kasu with oatmeal and cloves, kasu with juniper berries, kasu with peppermint as well as Kasu with calendula, lemongrass and mint.
Kasu, or Lees, refers to deposits of residual yeast and other particles left that precipitate, or are carried to the bottom of a vat after fermentation and aging of sake production. Also used as a flavorful ingredient in cooking recipes, sake kasu is full of amazing qualities to firm, moisturize and smooth human skin.
SKIN all natural™ soaps are enriched with the nutrient rich kasu of brown rice sake, which contains proteins, amino acids, enzymes and antioxidants. Naturally scented with essential oils, these soaps are handmade with the finest botanical ingredients and are free of chemicals or perfumes.
SKIN all natural™ is a cosmeceutical brand of Choice All Natural, Inc. a small family business dedicated to providing high quality, plant based, cruelty free alternatives to beauty, health and wellness consumers. For more information visit http://www.skinallnatural.com.
###