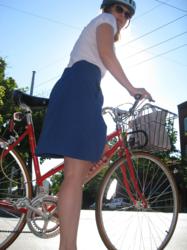 The website is free and easy to use. I can count calories, see carbon saved and win prizes at the monthly events. BikeWalkKC makes it easy for me to go green!
Kansas City, MO (PRWEB) December 31, 2011
BikeWalkKC wants the residents of the Kansas City Metro area to aim high for 2012. Join the Car Free Challenge to log miles, see calories burned, carbon saved and go green.
The 2011 Car Free Challenge results are in! In 2011 participants burned: 3,798,209 calories, took 7,233 car free trips, had a carbon savings of 81,371 lbs. and traveled over 85,838 miles. BikeWalkKC wants to beat those numbers in 2012 and log over 100,000 miles using active transportation.
Last year some participants rode their bikes to work, while others walked, took the bus and even carpooled. Michelle Schmiedeler, Car Free Challenge participant said, "The website is free and easy to use. I can count calories, see carbon saved and win prizes at the monthly events. BikeWalkKC makes it easy for me to go green!"
This year residents are encouraged to use all forms of transportation, especially multimodal. "Pairing the bus with the bike is a perfect way to reach those destinations where public transportation might be scarce" states, Eric Bunch BikeWalkKC's Director of Education.
All forms of active, green transportation are welcome in the Car Free Challenge -- even carpools. Any trip that would replace driving alone is counted. Not only is this program easy, it is also very personal. Once a month the participants have the option of meeting after work for a "Handle Bar Happy Hour," where all the participants can gather to talk about transportation in Kansas City and meet like-minded individuals. "It is good to know there are lots of people like you biking and walking to work" states Bunch. "It makes the commute much more fun" he adds. There are great prizes to win, anything from a new bike bag to a $100.00 gift card to a bike shop
The rules of the Car Free Challenge are simple. Register at the Car Free Challenge, and log miles traveled. Eligible miles are:
-Transportation-oriented trips that participants would normally drive alone. For example, to work, school, or an errand like the store, library, restaurant, etc.
-Trips within the Greater Kansas City Metro area (Jackson, Clay, Platte, Johnson, Wyandotte, Leavenworth).
-Bicycle trips for training, recreation, fitness, mountain biking, etc. are not eligible.
-Non-transportation trips can be logged for participants records, but will not count towards the Car Free Challenge.
Monthly Prize Drawings will occur at the end of each month. Anyone who logs at least four trips in the proceeding 30 days will be eligible for the random drawing. Some of the prizes include bus passes, gift cards, messenger bags and walking accessories. Prizes will be drawn and distributed at the monthly Handle Bar Happy Hour events.
BikeWalkKC has many ways for you to go green in 2012. In addition to the Car Free Challenge metro residents can further enhance their commute by taking on of BikeWalkKCs free classes.
BikeWalkKC teaches classes on Staying Visible, Commuting by Bike, Confident City Cycling, Basic Bike Maintenance and more. Organizations now have the opportunity to request a class and can have a class tailored for their work site. Make bike commuting a part of a work wellness program or incorporate bike education into after school programs for youth.
BikeWalkKC is the unified voice for active living, promoting a healthy, safe and accessible outdoor experience for all in a vibrant, engaged community. BikeWalkKC is a member-supported organization that works to make Greater Kansas City a safer and more accessible place to walk, bicycle, live, work, and play. The advocacy programs work with local cities to improve policies and build sidewalks, trails, crosswalks, bike lanes, and more. BikeWalkKC's education programs give people the knowledge and skills to walk and to bicycle safely and confidently for transportation, recreation, and fitness. Learn more at BikeWalkKC.org.
###