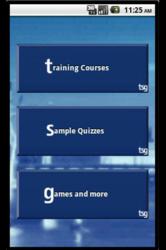 "Brilliant way to revise for an ISEB or ISTQB exam, whichever level you are working on. I can't wait for the next version"
(PRWEB UK) 30 December 2011
Attending one of TSG's classroom courses provides the opportunity to prepare with confidence for ISEB/ISTQB certificated exams, with accredited sample papers and mock exams and supplemented by the help and support of a course tutor. But this free version of TSG's software testing training app provides an opportunity for testing the skills needed to gain the certification right now.
It includes sample multiple choice questions from the current ISEB and ISTQB syllabi, including ISEB/ISTQB Certified Tester Foundation, ISEB Intermediate, ISTQB Advanced Test Manager, ISTQB Advanced Test Analyst and ISTQB Advanced Technical Test Analyst courses. And it monitors pass rates and moves up one level at a time. It will even help to increase knowledge by providing in depth answers and explanations to each question.
It's a quick and easy way to determine when testers are ready for the real exam and will always pick up from the place it was left, so it's handy when only a few spare minutes can be spared while travelling or waiting for a train. It is also great fun to share answers and discuss explanations with friends and colleagues.
Also included are real time Twitter and LinkedIn updates and news articles from the TSG website and the BCS. And there's even a chance to get a flavour of each course subject matter before deciding which one to take.
Give it a try and don't forget to check back for future updates which include new questions, new levels and games.
Visit the Android App Store, search for 'TSG Training Skills' and download the App.
Testing Solutions Group (tsg) is a London based company who delivers software testing training excellence, strategic software testing consultancy services, project and managed services and non managed services in the UK and overseas. To find out more ways TSG can help an organisation please visit the website or call/email TSG directly.
# # #