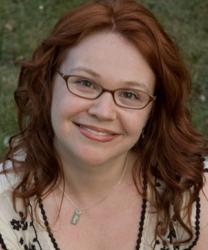 (PRWEB) December 30, 2011
The St. Louis County Library Foundation and Pudd'nHead are pleased to present a Reading Garden Event Series program with breakout young adult teen fantasy author Andrea Cremer, who will discuss "Bloodrose," the third installment in her bestselling Nightshade trilogy. The event will be on Tuesday, January 17 at 7:00 p.m. at Library Headquarters, 1640 S. Lindbergh Blvd.
The program is free and open to the public. Books will be available for purchase at the event from Pudd'nHead Books.
While other teenage girls daydream about boys, Calla Tor imagines ripping out her enemies' throats. And she wouldn't have it any other way. Calla was born a warrior and is the alpha female of the next generation of shapeshifting wolves. But Calla's predestined path veered off course the moment she saved the life of a wayward hiker, a human boy her own age.
Now that the final battle is upon her, there's more at stake than fighting. There's saving the life of her true love, even if he's been branded a traitor. There's proving herself as the pack's alpha, facing unnamable horrors, and ridding the world of the Keepers' magic once and for all. And then there's deciding what to do when the war ends. If Calla makes it out alive, that is. In this remarkable final installment of the Nightshade trilogy, Andrea Cremer crafts a dynamic novel with twists and turns that will keep you breathless until its final pages.
Andrea Cremer is the internationally bestselling author of the Nightshade trilogy: "Nightshade," "Wolfsbane," and "Bloodrose." When she is not writing, Cremer is a professor of history at Macalester College in St. Paul, Minnesota.
St. Louis County Library Foundation's Reading Garden Event Series hosts free family events with authors and musicians. Sponsors include Commerce Bank, Companion, and the Sara Guth Costigan Memorial Fund.
Program sites are accessible. Upon two weeks notice, accommodations will be made
for persons with disabilities. Contact St. Louis County Library by phone 314-994-3300 or visit http://www.slcl.org.
###