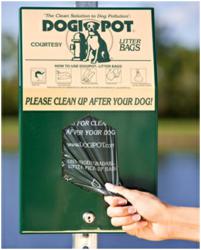 Lexington, VA (PRWEB) December 30, 2011
DogiPot, the leading supplier of dog waste removal systems, and ParknPool, the leading online provider of commercial outdoor furniture and site amenities, have been partnered together in the fight against pollution caused by pet waste for more than ten years. For 2012 ParknPool is adding to its existing line of DogiPot products. ParknPool exclusively offers DogiPot systems, as they provide dog owners with a quality, environmentally friendly way to take responsibility for their pet waste. The online retailer currently offers a wide variety of DogiPot products, including valet stations, OXO-biodegradable litter pick up bags, and trash receptacle liners. The newest additions to ParknPool's product line are the DogiPot Header Pak Junior Bag dispenser, OXO-biodegradable Header Pak bags and OXO-biodegradable extra large trash receptacle liners.
DogiPot has the most environmentally-conscious product line on the market. The litter bags and liners are made with a special additive that oxidizes and biodegrades into carbon dioxide (CO2), water and biomass (a biological material derived from living, or recently living organisms). While other litter bags on the market may have sacrificed strength in order to ensure their bags are biodegradable, DogiPot ensures their bags are "the perfect balance of dependability and biodegradability," (http://www.dogipot.com). The new Header Pak bags are made of the same OXO-biodegradable material as the DogiPot bags on a roll, but are attached to a top hanging card to eliminate waste from unrolling bags.
The Header Pak dispenser was added to cater to those clients that prefer a hanging bag dispenser over the original rolled bag dispensers. Both the Header Pak and the original system can hold up to four hundred bags, ensuring lots of dog owners will be able to pick up after their pets before maintenance or park staff have to refill the dispensers.
ParknPool welcomes the new DogiPot products to their existing pet waste product line. Along with providing solutions for dog pollution, ParknPool also offers an extensive collection of picnic tables, bleachers, park benches, playgrounds, restaurant furniture, grills and fire rings, drinking fountains, umbrellas and shade solutions. They are truly a one stop shop for furnishing outdoor spaces with high quality products.
About ParknPool:
ParknPool is Veteran Owned SBE/WBE Company and is the leading online supplier of commercial grade furniture and site amenities such as picnic tables, trash receptacles, park benches, bleachers and restaurant furniture. ParknPool was begun in 1998 in Orlando, FL and moved their headquarters to Lexington, VA in 2005.
# # #