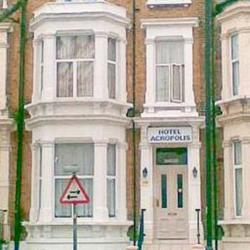 The Acropolis Hotel in the Hammersmith neighborhood of London has jacked up its rates by 635%.
(PRWEB UK) 30 December 2011
New Year's Eve celebrators who want to bid 2011 farewell in London better be prepared for an expensive hotel bill. A new survey compiled by CheapHotels.org has revealed that if they haven't yet secured a hotel room along the River Thames, London guests may end up paying 600% more than usual this December 31.
The hour hasn't yet struck midnight in the British capital for those wishing to blow their holiday noisemakers there, though. Fewer than 10% of London hotels have vacancies available, but rooms can still be scored … for a hefty price.
Of the limited rooms that are currently available, the going rate for an overnight stay on December 31 into January 1st will cost visitors, on average, 115% more than usual, the survey's analysis found. Some accommodations, however, are taking advantage of last-minute travelers' desperation and are hiking their rates substantially more.
The biggest price gouger is the 2-star Acropolis Hotel in the Hammersmith neighborhood of London. There, a typical £53 room will cost £390 on New Year's Eve, or 635% more. Rates at the Kensington West Hotel have also soared by 533% this December 31. This 2.5-star accommodation that regularly charges £71 for a room has instituted a year-end price hike of £450.
The city confines are offering no breaks for deal seekers. Every room located by the survey had a sticker price of £150 or more. The trendier London neighborhoods like the West End, Knightsbridge, Chelsea and Westminster will cost even more: at least £250 for the New Year's Eve night.
Elsewhere in the city, specifically Earl's Court, Paddington and the Excel Exhibition Center area in the east end of London, have posted slightly less expensive rates. There, rooms can be secured for £200.
One piece of good news is that Baby New Year is smiling upon budget travelers who don't mind a one-hour tube ride into central London on the Piccadilly Line. Affordable accommodations in London's outskirts, around Heathrow Airport, are reasonably priced below £75 this New Year's Eve.
For more information about this survey, visit http://www.cheaphotels.org/press/new-years-eve-london-2011.html
###