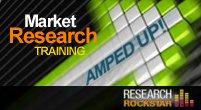 Marlborough, MA (PRWEB) December 30, 2011
Would you rather do market research well, or poorly? Good market research can deliver new customer insights, inform important new sales strategies, inspire new product development efforts and more. But done poorly, market research can deliver misleading conclusions, unexpected budget overruns and angry participants (who, in many cases, may be customers).
To bring market research best practices to a wider audience, Research Rockstar announces a free, new 21-part Series, "Principles of Remarkable Research." The free series launches January 5th, 2012. Each article is very short (under 200 words), to make the content practical for a wide audience.
Topics covered in this series include:

Avoiding budget overruns
Collecting accurate data
Delivering great market research presentations
Drawing well-supported conclusions
Free market research sources
Managing internal clients
Questionnaire design tips
Using cool, new market research tools
According to Research Rockstar president Kathryn Korostoff, "We created this series to deliver very short, precise lessons on market research best practices. They are all written in a way that any motivated business professional can understand." She adds, "In today's economy, all businesses need to be tuned into their customers' needs, behaviors and perceptions. And that's what market research is all about. I want to make great market research accessible to all businesses—even those that may not have large market research budgets." All of the articles are shorter than 200 words, and several are under 100.
To receive the article series by Email register here: EMAIL LINK.
About Research Rockstar
Research Rockstar is the only independent destination for market research training. Our clients include market research departments, marketing departments, market research firms, software companies, media companies and more. To learn more, please call 508-691-6004 ext 705, or visit: http://www.ResearchRockstar.com. To hear what our 300+ clients say about us, please visit http://www.ResearchRockstar.com/clients
# # #