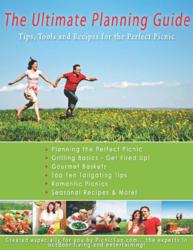 Picnic Fun is about truly living, experiencing, and enjoying life...
Asheville, NC (PRWEB) December 30, 2011
Picnic Fun, your one stop for picnic fun, announced today that it is launching its new e-book called The Ultimate Picnic Planning Guide. This e-book contains different tips, tools, and recipes that can make any kind of picnic fun and enjoyable. Learn how to get the most out of your picnic basket or picnic backpack.
Polly Godwin, Vice President of Picnic Fun, said "Picnic Fun is about truly living, experiencing, and enjoying life and we at Picnic Fun believe that this is possible through shared memories and connections with other people as well as through enhanced connection with nature". "How else can we obtain these things but through having a perfect time with the people we love?" There are a lot of ways to spend time with the people we love but nothing beats the traditional picnic! Picnic Fun believes that to make your outing enjoyable and perfect, it has to be complete and this is what Picnic Fun aims to give its customer with the Ultimate Planning Guide.
Picnic Fun will be offering the Ultimate Planning Guide with content that includes Tips to Planning the Perfect Picnic, Grilling Basics, Gourmet Baskets, Top 10 Tailgating Tips, Romantic Picnics, Seasonal Recipes, and a lot more. The good news is this Ultimate Planning Guide will be offered for free through Picnic Fun's Facebook Fan Page and website.
The Ultimate Planning Guide will serve as Picnic Fun's way of reaching out to people especially those who would like to spend quality time with their family through a picnic. With the tips, tools and recipes included in the Ultimate Planning Guide, there is no doubt that every picnic will be filled with ultimate fun.
# # #