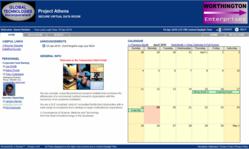 With the rise of corporate espionage, by both rival companies and foreign governments, there is a need for our solutions that dwarfs even our initial virtual data room products.
Dallas, TX (PRWEB) December 30, 2011
Recognizing the growth opportunities in secure, online document exchange solutions, Timothy Sides has joined V-Rooms as Director of Technology. With over 18 years experience in application design and development, Tim brings considerable expertise in scalable web-based applications.
Tim has 10 years experience with Microsoft's .NET Framework spanning several industries and is proficiency in the technologies which power many Sofware-As-A-Service (SAAS) companies. Tim will oversee the translation of management goals into easy to use software features for V-Rooms virtual data room, board portal, and yet-to-be-announced additional applications.
"With Tim's expertise we will continue to offer dynamic, market-driven features to our virtual data room and board portal products," said Karen Perkins, President of V-Rooms. "Tim's involvement will also allow us to continue to innovate as we create specialized, cloud-based document systems for other audiences."
V-Rooms is poised to expand its software applications rapidly. "With the success of our board portal expansion from last year," says Dan Bradbary, Founder and CEO of V-Rooms, "I'm excited about the additional audiences we can serve with more specialized products for their industry's needs. With the rise of corporate espionage, by both rival companies and foreign governments, there is a need for our solutions that dwarfs even our initial virtual deal room products."
This growth potential is what led Timothy Sides to join V-Rooms; he said "I look forward to the many features we will add and improvements that we will make as we continue to innovate in this secure document storage space."
###