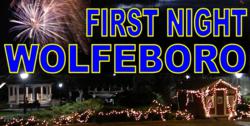 Wolfeboro NH on Lake Winnipesaukee your New Years Eve Destination with Fireworks at 5pm and Midnight and an afternoon & evening of fun for the entire family
Wolfeboro, NH (PRWEB) December 30, 2011
Wolfeboro is famously known as the "Oldest Summer Resort in America" and is also known to have another fantastic lineup of events for First Night in Wolfeboro. The Governor Wentworth Arts Council and the Wolfeboro Chamber of Commerce have sponsored First Night Wolfeboro® since 1994 and each year put out a wonderful mix of events that will please the entire family. AND, not One, but TWO Fireworks Shows over Wolfeboro Bay.
The activities begin at noon with the great Walleye Clue Chase from noon-4pm, preparations for the parade from 2-5pm with face painting, mask making and hat making. Join the parade of giant puppets down Main Street to the town docks to watch the first fireworks display at 5:30pm. Also from 2-5pm there will be Ice Sculpting at Cate Park, skiing and skating at Abenaki Ski Area and Ice Arena and Hamster Racing!
Other afternoon events include: Magic by James & Marie World of Magic, the Discovery Dome with Digital Shows and Telescopes from McAuliffe-Shepard Planetarium, Wildlife Encounters from the Granite State Traveling Zoo, Storytelling with Shawn Middleton, interactive music of Wayne From Maine and the Koonga Boonga Man.
The events continue with performances by A' Cappella Doo- wop group the Bel Airs, folk music by Burke & Surette, Fiddle Music from Ellen Carson, Tuftonboro Country Band, teen bands The Cranks and The Third Man Factor and music by the Wolfeboro Chamber Music Ensemble. Plus Two Local Talent Shows: "Dancing with the Arts" ages 6-11 at 4pm/ages 11-17 at 8pm and "Singing with the Arts" at 9pm - watch and vote as they compete for prizes.
Also, pianist/vocalist Mike Welch with Great American Songs, Entertainer/Accordionist Gary Sredzienski, hilarious songs/stories by Christine Lavin, local singer/song writer Sarah Smith, Funky Divas of Gospel, smooth sounds of jazz/ big bands of Richard Gardzina Trio & Group, Amazing singer Haley Gowland, Mountain Lake Chorale, Moose Mountain Jazz Band, and Tuckermans at 9.
Then return to Wolfeboro Bay area to ring in the New Year with Fireworks at Midnight.
For the complete schedule of events from First Night Wolfeboro® visit their website:
http://firstnight.wolfeboro.net/performers.
About: First Night Wolfeboro®
First Night Buttons are $15 each and sold at the Wolfeboro Area Chamber of Commerce, area stores and most venues during First Night.
No one is admitted to a venue without a button.
Children 10 and younger are FREE when accompanied by a button wearing adult
###