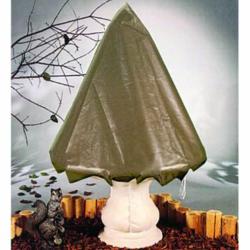 ... fountains are affected and influenced by how the owners care for them.
Asheville, NC (PRWEB) December 30, 2011
Kinetic Fountains, your one stop for water fountains, announced today some tips and guidelines on winterizing outdoor fountains. Kinetic Fountains hopes that these tips and guidelines can be used by its customers as part of their fountain maintenance this winter season.
Outdoor fountains are susceptible to extreme temperatures. As such, special precautions must be taken to make sure the outdoor fountains are protected from the bad effects of extremely cold temperatures. This process is called winterizing.
Polly Godwin, Vice President of Kinetic Fountains, said "Kinetic Fountains has been a leader in providing high-quality fountains; however, to maintain the high quality, owners must take care of their fountains and this is especially true at this time of the year when the fountains get exposed to the work of nature. As part of Kinetic Fountains' continuous customer service, we are offering our expert knowledge in caring for fountains through different tips on the right way of winterizing outdoor fountains."
The first tip and step to winterizing fountains is to drain all the water from the fountain, allowing the fountain to completely dry. It is important to give the fountain enough time to dry otherwise freezing will still occur. When freezing occurs, the fountain may crack. This may also cause the fountain pipes to crack.
The second tip and step to winterizing garden fountains is to take the pump out of the fountain and disassemble the fountain for storage. It's best to preserve the pump during the winter to prevent drying and cracking of the rubber parts. It's also best to store the pump inside your home or in a warm storage area where freezing will not take place.
The third tip and step to winterizing outdoor fountains is to store or cover the fountain properly. It's best to use an insulated, waterproof cover for fountains that cannot be easily moved. There are plenty of covers made especially for this purpose. The most important part of winterizing fountains is to keep the fountains free of moisture to prevent freezing.
The longevity and proper functioning of the fountains are affected and influenced by how the owners care for them. Without proper maintenance and upkeep, the life of the fountain is shortened, no matter how good the quality is. However, with these tips and guidelines on winterizing fountains, maintenance and upkeep of outdoor and garden fountains is made easier.
For more information on how to winterize fountains, visit our blog at http://www.kineticfountains.com/articles.
About Kinetic Fountains:
Kinetic Fountains is your one-stop shop for all your fountain needs. The company offers a wide selection of fountains for indoor, outdoor, personal and corporate use. You can also have your logo applied to many of their fountains giving it a personal touch.
###