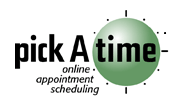 We are grateful to all of the people who have worked with us over the years and are excited about what the future holds
Bellevue, WA (PRWEB) December 31, 2011
PickAtime, a leading online appointment scheduling service, celebrates a milestone anniversary, with 10 years providing online appointment scheduling solutions. The Bellevue, Washington-based company served its first customer, a flu-shot provider in 2001. PickAtime now provides a variety of web-based appointment options for schools and universities, non-profit organizations, and large and small businesses as well as other companies in the field of healthcare.
In 2002 PickAtime launched its Parent Teacher Conference Scheduler, which now serves more than 700 schools around the globe, from China to the west and Tanzania to the east. New features have been added regularly to this popular scheduling system over the years including a "light" version for small schools, a team scheduling feature and a volunteer scheduling program.
Organizations continue to discover what a time-saver it is to manage their schedules via the Internet with pickAtime. "PickAtime allows me to focus on the success of the event, not the logistics," notes one administrator. Another mentions how nice it is, when it comes to scheduling, to get "compliments over complaints." It's true that PickAtime's automated systems allow employees to work on more pressing or important tasks.
"We are grateful to all of the people who have worked with us over the years and are excited about what the future holds," says pickAtime Director of Client Services, Anne Taves. "We continue to work on enhancing features for our scheduling programs and creating new products to serve the needs of our clients."
PickAtime is an online appointment scheduling service offering businesses and institutions the ability to book appointments quickly, easily and efficiently over the Internet. The company served its first client in 2001. Since then pickAtime has expanded its services to include hundreds of organizations in health care and education as well as large and small businesses and non-profits across the country. For more information, visit http://www.pickatime.com or call 888-250-1945.
# # #