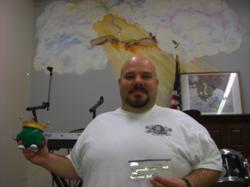 A Girl, Her Dog & A Truck Named Bubba"
Savannah, Georgia (PRWEB) December 30, 2011
The plan is for family game night to always provide a subtle strategy urging teams to remember that if everyone does a small part to "pay it forward", great accomplishments can be achieved.
The big game companies such as Hasbro, Mattel and Parker Brothers will always be there with great distribution. However, the small start-up known as Peas-Corp, continues to pursue a vision of building a giving-based business and serving as an example of what people can accomplish and how small business can benefit great causes.
In its 2nd year, Peas-Corp's flagship game, Whirled Peas is available across the USA in large retailers such as Barnes & Noble and Target.com and the company was able to provide support to several organizations in 2011. This seemed like a perfect opportunity for us to recognize the type of organizations that are community based and doing great things, but rely on private support to continue according to company founder, Kevin Werntz.
# 5 Project 5050: "A Girl, Her Dog and a Truck named Bubba"
Shay Kelley traveled across the US in her Truck, "Bubba" (gotta love anyone that names her truck "Bubba") and raised awareness and money to fight hunger. They live in their truck and "Testing the knowledge that faith works, and experiencing the truth; that we get what we give." Great Job Shay! Follow her on Twitter @project5050.
# 4 Rescue Atlanta: "Reaching the people NOBODY else wants but GOD desperately wants"
This long running faith based organization providing services to Atlanta's needy has a very strong mission and success rate. The organization has grown since its inception in the early 1990's and continues with an uncompromising stucture. Through their efforts they have offered a "Hand-Up" to 10s of thousands throughout the years and continue to go strong. Find out more at http://www.rescueatlanta.com.
# 3 Branches Recovery Center "Recovering Hope, Restoring Lives"
Anyone with mental health issues or have family with challenges understand the importance of help. When there are no resources or funds to help, it can be devastating. Branches is a faith based counseling center that offers healing and hope for those struggling with depression, anxiety, addiction and shame regardless of their ability to pay. Learn more at: http://branchesrecoverycenter.com
# 2 Phil's Friends "To Bring Hope"
Started from an incredible story of Phil Zielke fighting cancer twice and determination to bring hope to others experiencing this pervasive disease. Phil's Friends provides support and comfort to those who are fighting cancer via distribution of care packages to cancer patients and their families. They are establishing national chapters and a widespread volunteer base to help cancer patients and their families across the country. More at: http://www.philsfriends.org
# 1 Old Savannah City Mission "Giving of Their Time Talent & Treasure"
For our fans who follow us, they will recognize the OSCM as one of our Peas Project Partners. they represent the type of organization that our foundation strives to benefit. A quiet organization in Savannah GA, The OSCM seeks to:To proclaim the Gospel of Jesus Christ,
To feed the hungry,To shelter the homeless,To rehabilitate the addict, and To restore the ex-offender. Find more at http://www.oscm.org/aboutus.html
###