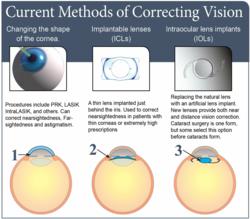 Laser vision correction is a popular choice, but some people will be better off with a lens implant. In some cases no current form of vision correction surgery is appropriate.
Salt Lake City, Utah (PRWEB) December 31, 2011
Those looking to have their vision surgically corrected often assume that means they will undergo LASIK surgery. However, thanks to new technology and procedures, there are now multiple options available to surgically correct one's vision. Those looking to rid themselves of glasses or contact lenses may be confused as to which option, if any, is best for them. Hoopes Vision, a practice offering LASIK in Salt Lake City, Utah as well as other forms of vision correction surgery, is reminding those looking into LASIK surgery to explore all options before committing to have their vision surgically altered.
It is important to visit a facility with surgeons who are experienced and comfortable with a wide range of surgical vision correction options when investigating vision correction surgery. According to Phillip C. Hoopes, MD, chief surgeon at Hoopes Vision and the most experienced LASIK surgeon in Utah, "When determining which form of vision correction surgery is best for an individual, the surgeon must consider the age and health of the patient, degree of refractive prescription to be treated, the patient's individual vision requirements, and the anatomy of the patient's eye. Laser vision correction is a popular choice, but some people will be better off with a lens implant. In some cases no current form of vision correction surgery is appropriate."
Current vision correction options can be classified into three main groups: first, surgery that changes the shape of the cornea (the clear dome that covers the front of the eye) which includes laser vision correction surgeries such as LASIK or PRK; second, implantable lenses that are inserted between the cornea and the natural lens inside the eye (Implantable Collamer® Lenses or ICLs); and third, intraocular lenses (IOLs) that replace the eye's natural crystalline lens after it has been removed.
The first group (changing the shape of the cornea) includes LASIK, IntraLASIK, PRK, CK, and many similar variations. This is often the first type of surgery that patients consider when thinking of correcting their vision. FDA approved in 1995, photo refractive keratectomy (PRK) was the first approved laser vision correction procedure that removes tissue to correct vision. LASIK and then IntraLASIK were approved soon after, and have become the most popular choice for those looking to reduce or eliminate their need for corrective eye wear. PRK is still a good choice for patients with thinner corneas or higher prescriptions. At Hoopes Vision, the leading provider of LASIK surgery in Utah, laser vision correction including LASIK and PRK is still the most common option for correcting vision for most patients under 60. Generally speaking, laser vision correction is the first choice for patients with nearsightedness, farsightedness or astigmatism. People in their 40s and older may also find laser vision correction to be the best choice for their needs. These patients have options such as monovision or blended vision, where the laser corrects one eye for distance and the other for near vision, as a solution to presbyopia (difficulty with near vision that starts around age 40).
Some people find that their corneas are too thin, eyes too dry, or their prescription is too strong for laser vision correction. These patients may be excellent candidates for Implantable Collamer® Lenses (ICLs). Think of these like contact lenses that can be implanted either just in front of or just behind the iris (the colored part of the eye). Hoopes Vision has offered ICL surgery in Salt Lake City Utah for several years now, and has recently welcomed Robert P. Rivera, MD, the most experienced ICL surgeon in the United States, to their staff of surgeons. These lenses can correct higher prescriptions than lasers are able. They cannot be felt or seen. As with LASIK, patients that can naturally change focus from near to far should still be able to do so after this procedure and monovision can also be created with ICLs.
The third option for vision correction is to remove the natural crystalline lens and replace it with an artificial implanted lens. This is sometimes recommended to patients in their 50s, 60s, and beyond. This type of vision correction surgery includes cataract surgery, where the lens must be removed because it has become cloudy. This is the most commonly performed vision surgery in the world. New multifocal and accommodating lenses are now able to correct both distance and near vision allowing most patients to function without glasses for distance or reading. Patients may opt to have these lenses implanted, even if they do not have cataracts, with a procedure known as clear lens exchange. Hoopes Vision surgeons are among the most experienced at cataract surgery in Utah . They are the fifth cataract surgery center in the western United Stated to offer the Alcon LenSx® cataract laser, which provides more accuracy and precision when performing the first steps of cataract surgery.
Dr. Hoopes warns that it is important for all surgeons to provide education about all options with potential patients – including risks and benefits, in order to help patients make a fully informed decision about any type of surgery. The surgeons at Hoopes Vision are experienced with each of these surgical options and have access to the newest technology associated with each form of vision correction. They have an on-site laser surgical suite for LASIK, PRK, and IntraLASIK surgery, as well as an on-site, Medicare-approved, ambulatory surgical center where ICL and IOL surgeries are performed. They offer patients interested in vision correction surgery a complimentary screening to determine which type of surgery, if any, is right for them. Hoopes Vision can be contacted at its Sandy, Utah location at (801) 568-0200. The practice can also be contacted via website at http://www.hoopesvision.com.
###