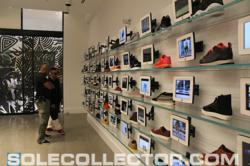 Product iPad kiosks are designed to engage the customer's imagination and increase sales
Aventura, FL (PRWEB) December 31, 2011
Reaching new heights outside the court, LeBron James has scored again with the opening of Unknwn, his interactive apparel store in Southern Florida's Aventura Mall. With interactive iPad kiosks paired with each sneaker, customers now have something that has not been seen in any apparel store: user controlled interaction with a single product. Each iPad kiosk offers shoppers access to a wealth of information for each shoe including stylish clothing and sneaker combinations, sneaker pricing, and technical specifications.
iPad Enclosures, a Utah-based iPad kiosk company, provided Unknwn with 45 wall-mounted iPad kiosk displays from their Evolve line. These unique Evolve kiosk enclosures are designed to engage the customer's imagination and increase sales by maintaining the store's overall theme with custom branding features available on the Evolve's faceplate.
iPad Enclosures also advised the store's decision to use an MDM (mobile device management) software solution that controls product content on each of the iPad kiosks. Among many other controls and features available, this particular MDM software allows the store to disable the iPad's touch screen yet still loop video and other content, all by remote management from a single location.
The versatility of the Evolve kiosk enclosure allows for much more than just product interaction and video display, as shown in the Unknwn retail store. It can also be integrated as an iPad Point-Of-Sale (POS) solution, store catalog, loyalty kiosk, and many other innovative applications. To learn more about the Evolve iPad kiosk enclosure and how it can be used in the retail environment, visit the VeriFone booth at the National Retail Federation Expo in New York, January 15-18, 2012. Retail Booth #1459 and Mobile booth #1635. You can also visit iPadEnclosures.com for more information.
###