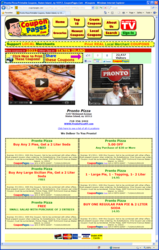 If you think the printable coupon market grew in 2011, you ain't see nothing yet... it's going to explode in 2012!
Staten Island, NY (PRWEB) December 30, 2011
In 2011, the Printable Coupon market exploded to new heights that very few expected. CouponPages.Com was one company that anticipated the demand and started to rebuild it's infrastructure for even greater expansion of the market in 2012.
"If you think the printable coupon market grew in 2011, you ain't see nothing yet... it's going to explode in 2012!", said Joe Crescenzi, Founder of CouponPages.Com. "We saw 10 times our normal audience last year, and I'm expecting the numbers for 2012 to make last year look like a drop in the bucket".
The explosive demand for printable coupons started in 2008, when the economy began to weaken and people started looking for ways to save money. A recent US study conducted by Prospectiv of Wakefield, Mass, found that 72% are using more coupons than they did six months ago. Three-quarters of these respondents claimed the economy made them do it.
Interestingly, although traditional coupons increased 69% this past year, the printable coupon market increased 263%. Even as the economy improves, consumers continue to look for ways to save money.
"Consumer brands are accustomed to promoting their products in stores and in newspaper inserts," said Jeffrey Grau, eMarketer principal analyst and author of a report on online couponing. "Today's online coupon users tend to be affluent, highly educated and over the age of 55," said Grau. "This is valuable input for marketers shaping the different elements of a promotional campaign, such as what products to promote with coupons, where to place the offers and what marketing messages to use."
According to Joe Crescenzi, "So, not only is the market growing because of people looking to make ends meet, but we now are seeing growth among those who are financially well off. It's a perfect storm of opportunity for us."
"As this market continues to get bigger, we expect to take an even bigger share of that market. We were here in the 90s, when there wasn't any market to speak of, and we're perfectly positioned to see massive growth in 2012. This is going to be a fun year!" Added Crescenzi.
CouponPages.Com is one of the oldest and largest printable coupon sites. It features printable coupons from local merchants in over 645 cities in 33 states and it has printable coupons for grocery coupons and national stores like Wal-Mart, Target, Pep-Boys, JC Penny, Sears and dozens of other large chains.
###