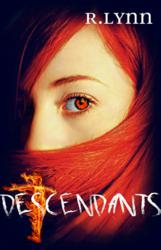 "The industry is showing the increasing popularity of eBook purchases", says R. Lynn.
Munich, Germany (PRWEB) December 30, 2011
On 12/19/2011 BookRix was excited to announce the release of R. Lynn's highly anticipated first novel, 'The Descendants Saga'. By tapping into BookRix's flourishing online community, Lynn successfully marketed herself and her book by engaging users and captivating a large fan base that currently stems across the web. She understands the importance of branding oneself and can relate to the needs of today's self publishing authors. "The industry is showing the increasing popularity of eBook purchases", says Lynn. "If writing is something you want to do, you need to consider the best route to showcase your book and build your fan base while making a name for yourself online". BookRix rebelled against industry standards and opted to back an independent author (R. Lynn) who shared their passion for making publishing accessible for everyone. Upon release, 'The Descendants Saga' will be available across the web at (Amazon, Apple iBooks, Sony Electronics, etc).
R. Lynn is an author, dreamer, dog lover, diet coke addict and connect-four master mind. Her current mission? To change the face of the conventional "book nerd". After reading Twilight, she was inspired to write a book that didn't portray happiness being dependent on men. While she felt there were many good things about the Twilight series, Lynn was bothered by this aspect as women shouldn't base their happiness on men. With regards to safe sex, Lynn also felt a level of significance should be placed on protecting oneself emotionally, rather than strictly embracing abstinence and physical protection. The passion R. Lynn felt for these topics compelled her to write The Descendants Saga. Although based in modern times, the story focuses on the descendants from the Lost City of Atlantis. The series ties Basque, Greek and popular folklore to Atlantis and follows the life of a young girl (Sollara) who embarks on a path of self discovery. "[I want] people to see a strong and capable person in Sollara", says Lynn. "And more importantly, to know that being strong doesn't mean you have to be tough."
When asked about her experience with BookRix, Lynn confessed that she was drawn to their social platform. "That's what originally attracted me to Bookrix. [They're] set up in such a way that makes it easy to meet fans, get valuable feedback and discover what route (traditional or self publishing) you want to take".
BookRix is passionate about paving a new road for independent authors and their book publishing experience. Beginning January 2012, BookRix will make eBook distribution services accessible to all their members!
###