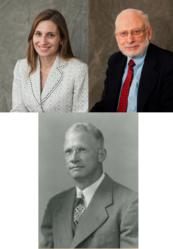 The Guild Associates has a rich history of being engaged in the association community
Boston, MA (PRWEB) December 31, 2011
The Guild Associates, Inc. is pleased to announce that it will celebrate 80 years in the association management industry in 2012. The firm has thrived as the oldest association management company in New England.
Founded in 1932 by Walter R. Guild, CAE in Boston, The Guild Associates was owned and managed by son, Richard S. Guild "Dick", CAE from 1965-2010. Dick passed the company onto the third generation, his daughter, Linda J. Guild, CAE. With offices in Malden, Massachusetts, the company manages 7 organizations, both trade associations and professional societies. Clients include Mozart Society of America, Boston Economic Club, and the NorthEast Laundry Association. In addition, they founded and manage the Talented Alliance of Part-time Professionals, a new association for individuals who work or want to work part-time as well as the companies who employ them.
A full service association management company, the staff handles all aspects of running an association including financial management, membership, website, strategic planning, event planning, and board management. The firm was the first association management company to use the iMIS database software, which has provided efficient data organization for clients over the years.
The Guild Associates has a rich history of being engaged in the association community. Walter Guild was in the first class of CAEs and served as president of the Association of Trade Association Executives (now ASAE & the Center). Richard S. Guild was the youngest to ever serve as a director of ASAE and also served as director and president of AMC Institute (formerly International Association of Association Management Companies) and was one of its founders. Linda J. Guild, CAE is a member of the American and New England Society of Association Executives and is a past president of the iMIS software users group. She serves on the ethics committee for ASAE & the Center.
The firm continues to offer experienced and well-trained staff to perform the tasks needed by client organizations. Serving some clients for more than thirty years, the team looks to engage new client associations in the future. The Guild Associates, Inc. is proud of its long history over the past 80 years and looks forward to continuing to grow and share its expertise in the future with current and new associations.
###