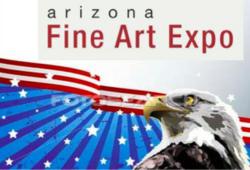 Scottsdale, Arizona (PRWEB) December 31, 2011
Patrons can watch everything from painting, sketching, rapidograph pen cross-hatching, etching, pastels and charcoals on canvas to sculpting clay, metal-smithing and one of a kind jewelry, wood sculpting, stone carving, furniture and much more. Subject matters range from contemporary to cowboys, abstract to animals, landscapes to figures, from subtle in colors to the most vivid. Commissions always welcomed.
The EXPO patriotism comes as no surprise that they would also be home to a veteran charity, the American Healing Arts Foundation (AHAF). AHAF gives veterans free art classes and art therapy throughout the EXPO's ten week event. Post-traumatic Stress Disorder (PTSD) and Traumatic Brain Injury (TBI) remain high for both wounded and uninjured soldiers, plus suicide and divorce rates continue to soar. Art is proven to be a great form of therapy. These classes provide veterans the ability to interact with award- winning art instructors, witness their own creative side, the opportunity for an art career, adding encouragement, hope and healing for the future plus exercise the power of rehabilitation. These classes are intended to reunite veterans with their fellow veterans, away from hospitals and the battlefield, in a peaceful environment. The EXPO has taken their devotion for our troops so seriously that they are donating one dollar out of every $10 season pass to the Foundation and the great American Veterans.
WHAT: Watch art made in America, by award-winning, nationally recognized and emerging independent artists. Artworks exhibited and for sale.Commissions welcomed.

Featuring paintings, charcoals and pastels, etchings, rapidograph pen cross-hatching, drawings, photography, stone, copper, clay, wood, metal sculptures, bronzes, jewelry and more.
WHEN:Everyday of every week, January 19th thru April 1st, 2012 • Open from 10am until 6pm, daily.
WHERE: Arizona Fine Art EXPO, 26540 N Scottsdale Road • Southwest corner of Scottsdale & Jomax Roads, North Scottsdale • 5 miles south of Carefree & 5 miles north of Loop 101
WHO: 107 studios filled with award-winning artists passionately working on their art • Open to the public • Friendly to disabled with easy access.
ADMISSION & PARKING: One time season pass $10 and $8 for seniors and military. • One dollar from every season pass is donated to our U.S. Veterans charity AHAF. • Purchase passes at the gate or call ahead. • Return as often as desired at no additional charge.
For more information go to http://www.ArizonaFineArtEXPO.com For additional questions, call 480.837.7163 Parking is free.
###