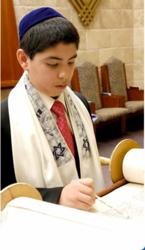 "A person's coming of age is a huge part of who we are, and we believe that everyone deserves a special celebration, no matter their economic standing." Daniel Coren
Rockland County, NY (PRWEB) December 31, 2011
The recession hit the country hard, and has affected every part of our lives. Everyone had to adjust, make changes here and there, including the way they commemorate milestones and special occasions like anniversaries or bar mitzvahs. Families have had to trim down on how this time-honored tradition of bar mitzvah is celebrated, and while the recession has taken its toll on the way everyone lives, it shouldn't take away the deep significance of this coming of age. FreeBarMitzvah.com, just as the name implies, offers bar mitzvah packages to families in the greater NY & Tri State area at absolutely no charge.
A CNN report on 'downsized parties' point out how current economic difficulties affected the way we celebrate:
"People are being more sensitive about throwing parties and celebrations," said Corinne Dinsfriend, whose Over the Top Productions in Orange County, California, specializes in themed children's parties. "There's still discretionary income out there, but our clients are not wanting to be as ostentatious."
Jewish families are forced to make huge changes in the way they hold bar and bat mitzvahs as well. In the same CNN report, Atlanta-based realtor Amy Barocas and her husband were opting to combine their daughter and son's bat and bar Mitzvah celebrations into one big event to keep the budget under control. Amy was planning a casual catered affair instead of a formal sit-down event.
Amy's children, Ivey and Harrison, are adjusting to the idea that they will have to share the spotlight on their big day. "They do have to give up a little, but that's a part of family, making sacrifices when times are tough," Amy said.
Cross your son's bar mitzvah off your worry list. A team of dedicated volunteers committed to providing a memorable, fun bar mitzvah party to every Jewish boy will take care of the details for them! From planning to the party itself, the FreeBarMitzvah.com team will be with them every step of the way to make this experience meaningful and fulfilling for everyone involved.
Parents Steven and Lauren recount their experience with FreeBarMitzvah.com:
"We are overwhelmed with gratitude for the outstanding bar mitzvah party that the team put together for our son David. No words can express the caring and friendship that these amazing volunteers extended from the time we first got in touch with them. From the party decorations, to the invitations, the music, the photography — it was all done professionally and 100% free!"
FreeBarMitzvah.com has received an overwhelming response from the Jewish communities in the greater NY & Tri State area, emphasizing on just how special and important this ceremony is, and money should never be the object of such a glorious occasion. With this, FreeBarMitzvah.com has now begun offering bat mitzvahs as well.
"A person's coming of age is a huge part of who we are, and we believe that everyone deserves a special celebration, no matter their economic standing." Daniel Coren, FreeBarMitzvah.com's project coordinator, said. "The volunteers make sure that the young men and women, along with their families, get the most memorable and meaningful bar/bat mitzvah to properly usher them into adulthood."
Make this momentous occasion happen. Visit http://www.freebarmitzvah.com to learn more about the services offered, which includes, among others, party setup, music, photography, even a beautiful prayer book and a stunning Star of David necklace, as well as a learning partner to help prepare the young ones for the bar or bat mitzvah, all at no cost. After all, they say that the best things in life are free — now including bar and bat mitzvahs!
###