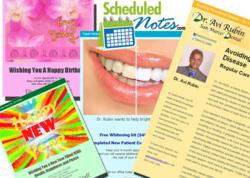 We see it as a benefit for any type of business that wants to more effectively communicate with its current clients, patients or customers, or reestablish a relationship with someone you've lost touch with
(PRWEB) December 30, 2011
With the debut of ScheduleNotes.com - its new email greeting card and custom note platform - Uinvite, Inc. promises small businesses a more personalized, less "in your face" way to market to current clients and renew relationships with clients they have lost touch with.
The ScheduledNotes system allows subscribers to quickly and easily set up schedules so that their entire contact database can receive email greeting cards for virtually every occasion throughout the year. "When you combine a marketing message with a greeting card, customers don't have the same tendency to view the email as spam," says company President Steve Lipson. "The idea that you took the time to send out a card goes a long way towards building relationships with your clients, customers or patients. It's much more common to receive a reply thanking you for the card, than it is to receive a 'remove me from the list' request."
With the ever-increasing amount of junk email that's being sent out, people have become desensitized to email offers. The ScheduledNotes system lets subscribers send attractive, artistic email greeting cards for every holiday and add marketing messages to promote special gifts or offers. The greeting card "softens" the approach so that the marketing message is better received. ScheduledNotes has thousands of greeting card images to choose from, covering every major holiday. Users choose a card design, and then add their own personal message. The completed e-card is emailed directly to the recipients so that they don't have to click on a link to view the card in a web browser. "Every time you require a recipient to click on a link to view something, you run the risk of losing them" says Lipson. "Delivering the cards directly to their email inbox greatly increases the chance that the recipient will read the card."
In addition, ScheduledNotes lets users upload their own images to create custom "notes" to send out as thank you notes, appointment reminders, announcements or coupons.
Existing contact databases are easily imported into ScheduledNotes, and the "Contact Groups" feature lets users assign contacts to multiple groups so they can easily be assigned to a bulk send for specific holidays or custom e-cards. For example, you can assign all of your contacts to receive cards for New Years, Thanksgiving and July 4th, but only those that you know have children to receive cards for Mother's Day and Father's Day, or only inactive clients to receive special "we want you back" offers.
The right combination of occasion greeting cards and custom notes throughout the year should ensure that your emails are well received. During beta testing ScheduledNotes reported that their unsubscribe request rate was less than 1% - an exceptionally low rate for any campaign where emails are sent regularly to the same recipients.
ScheduledNotes hopes to see Dentists, Doctors, Lawyers, Realtors, Insurance Agents, Property Managers, Retail Stores and others using their site. "We see it as a benefit for any type of business that wants to more effectively communicate with its current clients, patients or customers, or reestablish a relationship with someone you've lost touch with," says Lipson. For more information, visit http://www.schedulednotes.com and fill out the contact form.
# # #