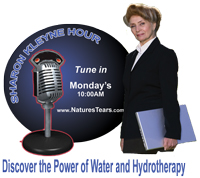 Grants Pass, OR (PRWEB) December 30, 2011
Sharon Kleyne, host of the Sharon Kleyne Hour Power of Water radio talk show and Founder of Bio-Logic Aqua Research, recently interviewed Alan Taylor, PhD, of the Tufts University Laboratory for Nutrition and Vision Research. The topic was the growing world blindness rate. Dr. Taylor offered some simple, proactive nutrition suggestions for preventing blindness.
The interview may be heard on-demand on World Talk Radio, Voice America, Green Talk Network, Apple iTunes and Twitter.
According to Sharon Kleyne, the blindness rate is growing worldwide and in the United States. Leading causes, worldwide, are cataracts (50% of blindness – increasing as you age), glaucoma, age related macular degeneration, diabetic retinopathy (increasing in the US), trachoma (a viral infection of the eye), onchocerciasis (or "river blindness," common in Africa), and leprosy.
There are 42 million blind people in the world, with 1.5 million in the US. An estimated 70% to 80% of blindness is preventable or treatable. In developing countries, where the blindness rate is much higher, the treatable rate is also much higher.
Blindness is increasing In the United States at a lower rate and with less treatable causes. Cataracts remain the #1 cause of blindness (and are easily repaired) but blindness related to air pollution, dry eye, dehydration, obesity and poor diet (such as diabetic retinopathy) is increasing.
According to Dr. Taylor, by taking care of your eyes and eating the correct "food for the eyes," you can significantly lessen the chances of age-related eye diseases such as macular degeneration, cataracts and chronic dry eye. Sharon Kleyne adds that water is one of the most important eye foods.
Dr. Taylor's eye health recommendations are similar to those for overall health: Keep weight down, get plenty of exercise, drink sufficient water and eat five servings of fruits and vegetables a day for anti-oxidants and fiber. He recommends cutting down on most other foods. Antioxidants remove free oxygen, which is harmful to cells. Free oxygen can also damage the heart and make the cornea and lenses less clear. Vitamin C is an excellent anti-oxidant.
Vegetables are best eaten raw but frozen or cooked vegetables are better than nothing. Juice is fine if there is no refined sugar or additives. Sugar is strongly associated with macular degeneration and with diabetes. Many meat proteins are modified in the body to sugars that accumulate interfere with absorption of beneficial proteins.
The role of sodium in eyesight, according to Dr. Taylor, is inconclusive. Too much sodium can be unhealthy but a certain amount is required for tears and perspiration.
Dr. Allen Taylor supports of drinking plenty of water for overall health and to avoid aging and dehydration diseases such as chronic dry eye. He is a supporter of eye misting to supplement natural tear film water content and help keep eyes healthy and well nourished.
Sharon Kleyne Hour Power of Water is sponsored by Nature's Tears® EyeMist® to naturally soothes and humidify dry eyes. Nature's Tears® EyeMist® is available at http://www.BioLogicAqua.com, Amazon.com, drugstore.com and selected drugstores nationwide.
Listen to the Sharon Kleyne Hour Power of Water Mondays, 10 a.m., PST/PDT. The syndicated radio talk show is heard on Voice America/World Talk Radio, Green Talk Network and Apple iTunes. Go to http://www.SharonKleyneHour.com for written summaries and on-demand replays. Also visit http://www.naturestears.com, whatistheeye.wordpress.com, "Nature's Tears EyeMist" on Facebook and "Bio-Logic Aqua" on Twitter.
© 2011 Bio-Logic Aqua Research
###