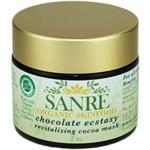 Organic products are unquestionably a terrific choice, particularly when we're talking about putting a substance on your skin! The ingredients in these organic skin care formulae are of the highest quality. Maria Weber, Co-Founder
Belleair Bluffs, FL (PRWEB) December 30, 2011
WellnessMarketer wants its customers to look and feel their best with the new addition of the SanRe Organic Skinfood line, available now at WellnessMarketer.com. SanRe organic skinfood products are affordable, yet offer customers uncompromising quality.
"The SanRe product line is a fantastic fit for our customers, and we're extremely excited to be able to offer it to them. At WellnessMarketer, we're all about helping our customers look and feel their best, and this product line truly embodies this notion," said owner Gary Weber.
SanRe is a family-owned and –operated company that obtains all feasible ingredients from USDA certified organic farmers and companies. All products are carefully crafted in small batches, which ensures exceptional quality and freshness. The product line encompasses a full range of moisturizers, eye creams, cleansers, toners, face masks, and lip balms.
"SanRe offers wonderful products that deliver on their promises," said co-founder Maria Weber. "Organic products are unquestionably a terrific choice, particularly when we're talking about putting a substance on your skin! The ingredients in these organic skin care formulae are of the highest quality."
If a product or product line does not personally appeal to the folks at WellnessMarketer, they will never try to sell it. WellnessMarketer.com never compromises when it comes to quality. They offer a 30 day money back guarantee on all products, and most ship to anywhere in the world for free.
###