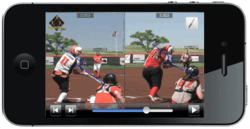 "The RVP Mobile Products will take baseball and softball elite instruction to the grassroots level". -Don Slaught President/Founder of RightView Pro
Rolling Hills, CA (PRWEB) December 31, 2011
RightView Pro, a video analysis software company, designed to help improve, define and standardize instruction for baseball and softball has announced their winter schedule. RVP will kick off the month of January in Anaheim, CA at the American Baseball Coaches Association (ABCA) convention. They will be hard to miss as they will display at the entrance of the Anaheim Convention Center in Booths 601-607.
RightView Pro plans to unveil the RVP Branded Academy, RVP Mobile App and the RVP Web Query for Stadium Edition customers. The mobile and online based products are designed to help coaches reach students across the globe. With the RVP Mobile App players can send their coach a video of a swing or pitching motion. With the RVP Branded Academy, coaches can review a player's swing or pitching motion video and subsequently send them an instructional video lesson. According to Don Slaught, president of RightView Pro, "The Mobile products will truly transcend the sport; the mobile products will take instruction from the elite to grassroots levels."
On January 12-14, RVP will visit the state of Texas. For the 6th year in a row, RVP will travel to the Texas High School Baseball Coaches Association convention at the Waco Convention Center. "We always enjoy our trip to Texas" says RVP Exective Director Misti Guenther. "The Texas High School coaches are very serious about their baseball and improving their sport."
RVP will wrap up the month with a trip to the Northeast and the World Baseball and Softball Convention and the Mohegan Sun in Uncasville, CT January 19-21. The company founder, Don Slaught will be speaking to both baseball and softball on the topic of "Finding the First Cause and Identifying the Right Drill". This discussion will help coaches see how easy it is to identify flaws in the swing and how to quickly correct them using specific drills that can be found in the Advanced Hitting Analysis product produced by RightView Pro.
About RightView Pro
RightView Pro was founded by former Major League Baseball Player, Don Slaught. Slaught's vision was to create a tool where kids and coaches could communicate and easily identify flaws in the swing and pitching motion. He felt strongly, that the only way to do this was with models of Major League Baseball players and professional softball players. Don went to Major League Baseball and in the end..., they agreed that kids and coaches needed models to compare to.
Today, RightView Pro is the only video analysis software company licensed by MLB, MLB Player's Association and the National Pro Fastpitch League.
###